Everbuild 2 Part High Performance Wood Filler - White - 6kg - Box Of 2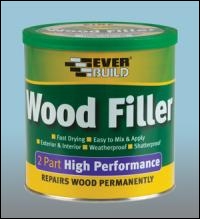 Product ID: eb_2PWHITE6
Please use this reference number at any time when dealing with us so that we can identify the product you are looking at as quickly as possible.
(Please note this reference number will not be of any use to any other party except us.)
Manufacturer: Everbuild
Price: £8.11 (£9.73 inc VAT)
Error! Sorry there has been a problem adding your items to the cart.
2 PART HIGH PERFORMANCE WOOD FILLER
Colour: WHITE
Pack Size: 6KG
Box Quantity: 2
2 Part High Performance Wood Filer is a fast drying, exterior and interior wood filler.

The 2 Part Wood Filler is easy to mix and apply and is completely weatherproof. Once mixed, the filler sets hard to a shatterproof finish in approximately 30 mins and may be drilled, carved or planed once dry.
Sorry! There are currently no reviews for this product.
Thank you! Your review has been submitted for approval.
Great service...easy to use. What more can I say...!!...
Douglas on 1. Sep
Good Dewalt Saw, Fast Delivery...
Paul Hillier on 29. Aug
I would certainly use this company in the future a realy good supplier...
michael on 27. Aug