Belle Megavib+ Compact High Frequency Vibrating Poker Drive Unit (110 Volts/240 Volts)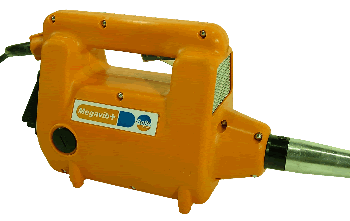 Product ID: BELLE_MEGAVIB
Please use this reference number at any time when dealing with us so that we can identify the product you are looking at as quickly as possible.
(Please note this reference number will not be of any use to any other party except us.)
Related Products: See all related products
Manufacturer: Belle
Warranty: 1 year
Altrad Belle shall at its option repair or replace free of charge any item which fails, where it is shown to the company's reasonable satisfaction that such failure or failures have resulted from the company's faulty design, workmanship or material defect, and provided further that in respect parts not of the company's manufacture. The company can give to the customer only such guarantee as the manufacturer gives to the company. The repaired or replacement part or parts shall be supplied free of charge but the company's liability as to delivery and fitting or other expense shall be limited to carriage paid in the U.K or F.O.B U.K port.
The defective part shall become the property of the company and shall be held to its order. Altrad Belle accepts no responsibility for any consequential costs incurred through loss of use or any other charges or costs whatsoever resulting from a warrantable failure.
This warranty is given, subject to certain obligations undertaken by the owner as described in this document.
Period of warranty for all products - manufactured and supplied by Altrad Belle carry an eighteen month warranty from date of invoice to dealer or twelve months from date of sale to customer whichever occurs first.
Period of warranty for replacement parts - manufactured and supplied by Altrad Belle will carry a Warranty to the end of the duration of the machines warranty period.
Period of warranty for new parts - manufactured and supplied by Altrad Belle carry a three month warranty from date of invoice.
Price: £299.00 (£358.80 inc VAT)
Error! Sorry there has been a problem adding your items to the cart.
Belle Megavib+ Compact High Frequency Vibrating Poker Drive Unit (110 Volts/240 Volts)
Part Code 244/00100

A high frequency hand-held poker system comprising interchangeable drives, flexible shafts, and poker heads, giving portable performance, ideal for small volumes of concrete
Lightweight power drive
High impact motor housing
Double insulated
Note: Price is for Drive Unit ONLY (For a complete system you will require the drive unit, flexible shaft and poker head)
| | |
| --- | --- |
| Motor Power (110 volt model) | 1.6 Kw |
| Motor Power (240 volt model) | 2.3 Kw |
| No Load Speed | 16,000 rpm |
| Loading | 13 Amps |
| Weight | 4.8Kg |
Sorry! There are currently no reviews for this product.
Thank you! Your review has been submitted for approval.