Bosch Green PSR-12 -12 Volt Cordless Drill Driver 10mm Keyless Chuck (1 x 1.5Ah Ni-Cad Battery)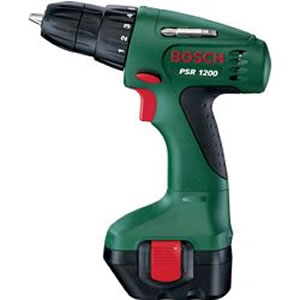 Product ID: BOSG_PSR12_1BAT
Please use this reference number at any time when dealing with us so that we can identify the product you are looking at as quickly as possible.
(Please note this reference number will not be of any use to any other party except us.)
Manufacturer: Bosch
Warranty: Click here for info
Bosch Blue Power Tools
Professional Bosch power tools and lithium-ion batteries including chargers meet the highest quality demands. For this reason, we offer you a special service package. And it's free.
3-year warranty for power tools. This applies to all professional blue power tools and measuring instruments from Bosch. The warranty excludes high-frequency tools, production cordless screwdrivers and pneumatic tools, supplied accessories, battery packs and chargers.
2-year Premium Service for batteries and chargers. This applies to all professional blue Bosch lithium-ion batteries including chargers. If a defect occurs on a registered battery or charger during the term of the Battery Premium Service due to a material or manufacturing fault or due to wear, Bosch will replace it (possibly with a later model). Replaced batteries or chargers shall become the property of Bosch.
All you have to do is register your tool, lithium-ion battery or charger online within four weeks of purchase. The term of the warranty or service begins on the date of purchase.
Click here fore more Bosch warranty information.
Click here to register your Bosch product for warranty.
Bosch Green Garden Tools
Bosch gives you a two-year warranty on tools used for domestic purposes. During this period, our Repair Service including shipping of your faulty tool are free of charge.
Please note proof of purchase for the product will be required in order to make a warranty claim.
All Bosch Garden products come with a 2 year warranty, excluding batteries and chargers which are covered by a 12 month warranty.
Parts: Click here for info
Enter your products part number on the following website to get your products parts diagram.
Price: £46.20 (£55.44 inc VAT)
Error! Sorry there has been a problem adding your items to the cart.
Bosch Green PSR-12 -12 Volt Cordless Drill Driver 10mm Keyless Chuck (1 x 1.5Ah Ni-Cad Battery)
12 volt cordless drill driver
10mm keyless chuck
Variable speed
Electronic speed control
Forward/reverse rotation
Adjustable torque - 5 settings
Run out brake for exact screwdriving
Soft grip for comfortable use
Switch on lock to prevent accidental starting
Charging time 3 hours
Ideal for drilling in metal, wood, plasterboard and breeze block
Forward/Reverse operation
Slim, ergonomic centre grip for optimum centre of gravity
| | |
| --- | --- |
| Technical Specifications | |
| No Load Speed | 700 rpm |
| Max. Torque Setting (low) | 1Nm |
| Max. Torque Setting (high) | 24Nm |
| Drill Spindle Thread: | 3/8" |
| Weight Including Battery (approx) | 1.6Kg |
| Max. Drilling Depth in Steel | 12mm |
| Max. Drilling Depth in Wood | 20mm |
| Max. Screw Diameter: | 6mm |
Standard Inclusive Equipment: Carry Case, Charger, 1 x 1.5Ah Ni-Cad Battery
Sorry! There are currently no reviews for this product.
Thank you! Your review has been submitted for approval.
I decided to buy the saw and a few clicks later I was finished and the goods arrived the next day. w...
David on 24. Oct
Can't recommend them more so helpfull aaa!...
NEIL o'connor on 28. Oct
Ordering is a painless, friendly experience and the delivery lead time is really good. I've only pla...
Brett at Atelier Developements Ltd on 21. Oct