Bosch GSK 18 VLIN 18V Cordless li-ion Brad Finishing Nailer (Body Only)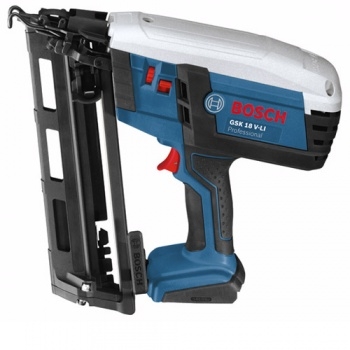 Product ID: bsch_gsk18vlin_body
Please use this reference number at any time when dealing with us so that we can identify the product you are looking at as quickly as possible.
(Please note this reference number will not be of any use to any other party except us.)
Related Products: See all related products
Manufacturer: Bosch
Warranty: 1 year or 3 years if registered
Bosch Blue Power Tools
Professional Bosch power tools and lithium-ion batteries including chargers meet the highest quality demands. For this reason, we offer you a special service package. And it's free.
3-year warranty for power tools. This applies to all professional blue power tools and measuring instruments from Bosch. The warranty excludes high-frequency tools, production cordless screwdrivers and pneumatic tools, supplied accessories, battery packs and chargers.
2-year Premium Service for batteries and chargers. This applies to all professional blue Bosch lithium-ion batteries including chargers. If a defect occurs on a registered battery or charger during the term of the Battery Premium Service due to a material or manufacturing fault or due to wear, Bosch will replace it (possibly with a later model). Replaced batteries or chargers shall become the property of Bosch.
All you have to do is register your tool, lithium-ion battery or charger online within four weeks of purchase. The term of the warranty or service begins on the date of purchase.
Click here fore more Bosch warranty information.
Click here to register your Bosch product for warranty.
Bosch Green Garden Tools
Bosch gives you a two-year warranty on tools used for domestic purposes. During this period, our Repair Service including shipping of your faulty tool are free of charge.
Please note proof of purchase for the product will be required in order to make a warranty claim.
All Bosch Garden products come with a 2 year warranty, excluding batteries and chargers which are covered by a 12 month warranty.
Parts: Click here for info
Enter your products part number on the following website to get your products parts diagram.
Price: £299.99 (£359.99 inc VAT)
Error! Sorry there has been a problem adding your items to the cart.
Bosch GSK 18 V-LIN 18V Cordless li-ion Brad Finishing Nailer (Body Only)
Features:
Tool-Free Jam Clearing - Quick and easy access for removing jammed nails
Narrow Nose - Allows for excellent line of sight for greater accuracy
Blank Fire Lock-Out - "Wood Protection System" Avoids damage to work piece by preventing blank firing when nail magazine is empty
Ergonomic Handle - Smallest diameter and large soft grip area offer less fatigue during extended use
Tool-less Adjustable Depth-of-Drive - Fast and easy adjustable nail depth control for more accuracy
Lock-Out Switch - When engaged, disables tool when not in use
Integrated Belt Hook - Mounts on left or right side of tool for easy storage in between use
Can deliver 700+ 32mm brads per charge
Precision depth control - gives more accuracy of nail depth
Compatible with Paslode and DeWalt 20° finish nails
Applications:
Trim work: chair rail, staircase, base board etc
Window and door casings and molding
Soft wood 1x and 2x materials (i.e. pine)
Hard wood 1x materials (i.e. oak, maple, birch, poplar)
Composite trim materials
PRODUCT SPECIFICATION
Length: 319mm x Height: 295 x Width: 94mm
Triggering system: Sequential firing
Collation Angle: 20°
Magazine capacity: 110
Nail type: Brad
Nail length: 32 - 64mm
Nail diameter: 1.6mm
Shots per second: 3
Battery voltage: 18 V
Battery capacity: 3 Ah
Shipping Weight: 5kg
Sorry! There are currently no reviews for this product.
Thank you! Your review has been submitted for approval.
I decided to buy the saw and a few clicks later I was finished and the goods arrived the next day. w...
David on 24. Oct
Can't recommend them more so helpfull aaa!...
NEIL o'connor on 28. Oct
Ordering is a painless, friendly experience and the delivery lead time is really good. I've only pla...
Brett at Atelier Developements Ltd on 21. Oct