Clarke CBS12WV 12" Bandsaw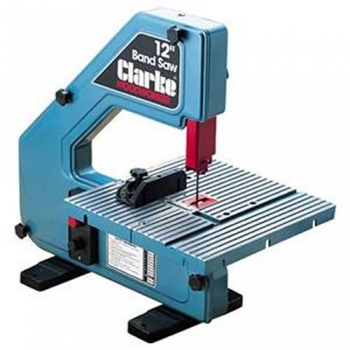 Product ID: clarke_6460030
Please use this reference number at any time when dealing with us so that we can identify the product you are looking at as quickly as possible.
(Please note this reference number will not be of any use to any other party except us.)
Manufacturer: Clarke
Warranty: Click here for info
Price: £139.95 (£167.94 inc VAT)
Error! Sorry there has been a problem adding your items to the cart.
CBS12WV 12" Bandsaw
Ideal for domestic and DIY use, this three wheeled, variable speed bandsaw allows accurate and precise cutting in all types of wood.
500 Watts, 230v motor
Maximum cutting height of 80mm, with 305mm throat depth.
345mm x 345mm cast aluminium table tilts from 0 to 45° for bevel cutting.
1,575mm blade length with variable speed control between 470 & 630 m/min.
Mitre guide & safety switch included as standard
Model No: CBS12WV
Part No: 6460030
Sorry! There are currently no reviews for this product.
Thank you! Your review has been submitted for approval.
I decided to buy the saw and a few clicks later I was finished and the goods arrived the next day. w...
David on 24. Oct
Can't recommend them more so helpfull aaa!...
NEIL o'connor on 28. Oct
Ordering is a painless, friendly experience and the delivery lead time is really good. I've only pla...
Brett at Atelier Developements Ltd on 21. Oct