DeWalt DC300KL 36 Volt Cordless 184mm Circular Saw Kit, with 2 Batteries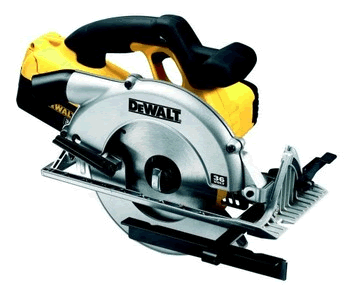 Product ID: DW_DC300KL
Please use this reference number at any time when dealing with us so that we can identify the product you are looking at as quickly as possible.
(Please note this reference number will not be of any use to any other party except us.)
Manufacturer: DeWalt
Warranty: 1 year
30 DAY No Risk Satisfaction If you are not completely satisfied with the Performance of Your DEWALT product, simply return it within 30 days, complete as purchased, to the point of purchase, for a full refund or exchange. Proof of purchase must be produced. Excludes accessories or spare parts unless failed under warranty.
1 Year Free Service Contract If you need maintenance or service for your DEWALT product in the 12 months following purchase, it will be undertaken free of charge at an authorised DEWALT repair agent. Proof of purchase must be produced. Includes Labour. Excludes accessories or spare parts unless failed under warranty.
1 Year Full Warranty If your DEWALT product becomes defective due to faulty materials or workmanship within 12 months from the date of purchase, DEWALT guarantees to replace all defective parts free of charge - or at our discretion - replace the unit free of charge provided that, the product has not been misused, the product has been subject to fair wear and tear, repairs have not been attempted by unauthorised persons and proof of purchase is produced.
In order to make a claim, you will need to submit proof of purchase to the seller or an authorised DEWALT repair agent, and the product must display the CE mark.
Parts: Click here for info
Visit the Dewalt website to obtain the part number required for a quotation.
Price: £489.00 (£586.80 inc VAT)
Error! Sorry there has been a problem adding your items to the cart.
DeWalt DC300KL 36 Volt Cordless 184mm Circular Saw Kit, with 2 Batteries
DeWalt have recently launched their new 36 volt range of cordless power tools
With loads of new features this is the most advanced machine on the market
Powerful DeWalt fan cooled motor with replaceable brushes delivers up to 4,000 rpm for fast cutting action
Handle set at 15° with diamond patterned grip area for better control and additional comfort
Keyless bevel angle and depth of cut adjustment with easy to read scale for maximum cordless versatility
Spindle lock for quick and easy blade change
184mm, 24 tooth carbide tipped blade allows for efficient run-time and fast, smooth cut finish at maximum 62mm depth of cut
Extremely durable design offering a cast magnesium shoe and full metal guarding to withstand rough job site conditions
Lock off switch and electronic motor brake for additional control and work safety
0°-50° bevel capacity with lever-action detents at 22.5° and 45° allows for aggressive bevel cuts while allowing users to locate common angles quickly
All metal keyless blade change system for quick and easy blade changes
36 Volt high performance battery pack provides long run-time & battery life
| | |
| --- | --- |
| Technical Specifications | |
| Voltage | 36 Volts |
| Battery Capicity | NiCad 2Ah Nano Batteries |
| Blade Diameter | 184mm |
| Power Output | 940 watts |
| No Load Speed | 4,000 rpm |
| Bevel Capacity | 50° |
| Max Depth of Cut @ 90° | 62mm |
| Max Depth of Cut @ 45° | 41mm |
| Weight | 4.49Kg |
| Length | 406mm |
| Height | 255mm |
Standard Inclusive Equipment: 1 Hour Charger, 2 x Batteries, 184mm 24 Tooth Carbide Blade, Heavy Duty Carry Case, Rip Fence
Sorry! There are currently no reviews for this product.
Thank you! Your review has been submitted for approval.
I decided to buy the saw and a few clicks later I was finished and the goods arrived the next day. w...
David on 24. Oct
Can't recommend them more so helpfull aaa!...
NEIL o'connor on 28. Oct
Ordering is a painless, friendly experience and the delivery lead time is really good. I've only pla...
Brett at Atelier Developements Ltd on 21. Oct