Everbuild Intumescent Acoustic Sealant Firemate 310ml Mastic (each)

Product ID: 700091
Please use this reference number at any time when dealing with us so that we can identify the product you are looking at as quickly as possible.
(Please note this reference number will not be of any use to any other party except us.)
Barcode: 5029347000134
Related Products: See all related products
Manufacturer: Everbuild
Price: £1.37 (£1.64 inc VAT)
Error! Sorry there has been a problem adding your items to the cart.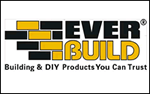 Everbuild Intumescent Acrylic Sealant Firemate 310ml Mastic White In Colour (each)
Everbuild Intumescent Acoustic Sealant is a solvent free, ready to use, white flexible acrylic intumescent sealant, filler and adhesive
It is specially manufactured to form an acoustic and fire rated intumescent barrier in construction applicaton
Fire rated and tested to BS 476: part 20 BSEN 140: part 3 and BSEN 20140
Suitable for sealing interior joints in floors, ceilings and bonding dry lining systems, partition walls, plasterboard and suspended ceilings in interior situations
Up to 4 hour fire rating is achieved with this product

0)