Fox 16mm Drill Press Bench Top Pillar Drill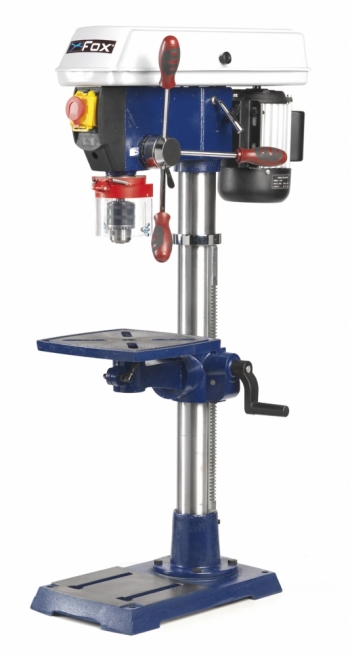 Product ID: FOX_F12-941
Please use this reference number at any time when dealing with us so that we can identify the product you are looking at as quickly as possible.
(Please note this reference number will not be of any use to any other party except us.)
Related Products: See all related products
Manufacturer: Fox
Warranty: 3 years
Fox power tools come with a standard 3 year warranty on all power tools except the paddle mixers. The first year covers parts and labour and the second and third years cover just parts.
Fox Paddle Mixers come with a one year warranty and covers parts and labour.
Fox warranties are not covered if the item is used outside the UK.
Price: £141.55 (£169.86 inc VAT)
Error! Sorry there has been a problem adding your items to the cart.
Fox F12-941 Bench Pillar Drill
Like its smaller partner, Fox 16mm Drill Press Bench Top Pillar Drill has the same features but has a greater cutting capacity and is ideally suited to the small to medium workshop or light tradesman.
Center of chuck to collum 126mm
Chuck capacity from 0.3 to 16mm
Chuck stroke 60mm
12 Speeds from 230 to 2470rpm
Motor is

450W – 250V (0.5hp)

Tilting workbench with grooves for vice fitment
Aluminium pulleys for silent operation
New design handle for ease of use
Sorry! There are currently no reviews for this product.
Thank you! Your review has been submitted for approval.
I decided to buy the saw and a few clicks later I was finished and the goods arrived the next day. w...
David on 24. Oct
Can't recommend them more so helpfull aaa!...
NEIL o'connor on 28. Oct
Ordering is a painless, friendly experience and the delivery lead time is really good. I've only pla...
Brett at Atelier Developements Ltd on 21. Oct