Fox F50-800 Dust Extractor 110/240 volt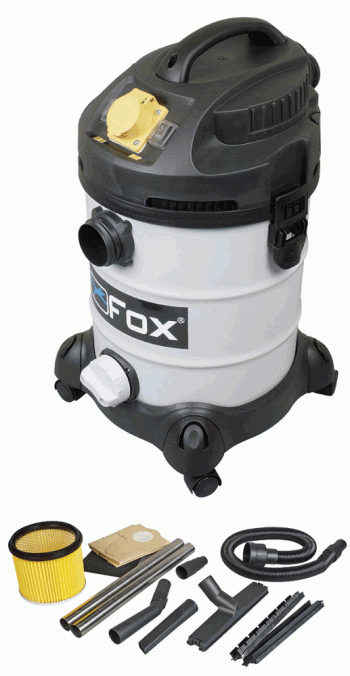 Product ID: FOX_F50_800
Please use this reference number at any time when dealing with us so that we can identify the product you are looking at as quickly as possible.
(Please note this reference number will not be of any use to any other party except us.)
Related Products: See all related products
Manufacturer: Fox
Warranty: 3 years
Fox power tools come with a standard 3 year warranty on all power tools except the paddle mixers. The first year covers parts and labour and the second and third years cover just parts.
Fox Paddle Mixers come with a one year warranty and covers parts and labour.
Fox warranties are not covered if the item is used outside the UK.
List Price: £149.55 (£179.46 inc VAT)
Web Price: £149.00 (£178.80 inc VAT)
Error! Sorry there has been a problem adding your items to the cart.
Fox F50-800 Dust Extractor 110/240 volt
Powerful 2 in 1 wet & dry vacuum
Anti-tip design with smooth glide castors
Quiet operation
Plug into the mains, plug your Mitre Saw Router etc into the top of the machine and when the main machine is operated the dust extractor will automatically turn itself on, when you stop the main machine the extractor will continue to run for a few seconds to clear the pipe
No more remembering to turn it on and off
Can also be used as shown in the picture as a normal vacuum cleaner
30 litre stainless steel container
Deluxe accessory kit
Safety float valve which automatically stops when the tank is full
Flow rate of 60L per second
Extra long power cord with built-in wrap
Power Take Off socket
Compatable with both the:
And the
Standard Inclusive Equipment: Dust Bag, Foam Filter, Cartridge Filter, Stepped Adaptor
"Fox F50-800 Dust Extractor 110/240 volt" By Cedric Hugh on

5/5
I was a but hesitant about this purchase as the f50-800 is much cheaper than most 110v alternatives. However, I have been pleasantly surprised it works well, is easy to empty and has good capacity. I can tell you how long it will last as I have only just purchased it but so far so good......
---
"Fox F50-800 Dust Extractor 110/240 volt" By Joe Bould on

5/5
You cannot fault this vacuum it's about 100 quid cheaper or more than most other 110v models available. We bought a few of them to connect to some flex drywall sanders we already had
---
Thank you! Your review has been submitted for approval.
Reviews
I decided to buy the saw and a few clicks later I was finished and the goods arrived the next day. w...
David on 24. Oct
Can't recommend them more so helpfull aaa!...
NEIL o'connor on 28. Oct
Ordering is a painless, friendly experience and the delivery lead time is really good. I've only pla...
Brett at Atelier Developements Ltd on 21. Oct