Heller 14mm Tank Cutter (Holesaw Combi Tooth)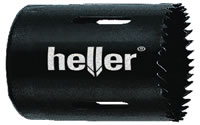 Product ID: HEL_tc14
Please use this reference number at any time when dealing with us so that we can identify the product you are looking at as quickly as possible.
(Please note this reference number will not be of any use to any other party except us.)
Related Products: See all related products
Manufacturer: Heller
Price: £2.24 (£2.69 inc VAT)
Error! Sorry there has been a problem adding your items to the cart.
Heller 14mm Tank Cutter (Holesaw Combi Tooth)
Tank Cutters: HSS Bi-metal Holesaw with variable depth teeth for fast and clean cutting
Typical Application: Ideal for cutting clean holes in steel, stainless steel, die cast metals, nail embedded wood, hardwood floors, plywood, plastics etc.
Quantity: Price for one Bit

Sorry! There are currently no reviews for this product.
Thank you! Your review has been submitted for approval.
Easy to order and good service....
Clive on 8. Sep
Well done, good service would recommend to others. Thanks...
Jenifer Terrence on 8. Sep
Used a few times, no problems so far and good on price....
Peter - CCS on 5. Sep