Hitachi WR16SA Impact Wrench ½" Square Drive 480 Watt (110/240 Volt)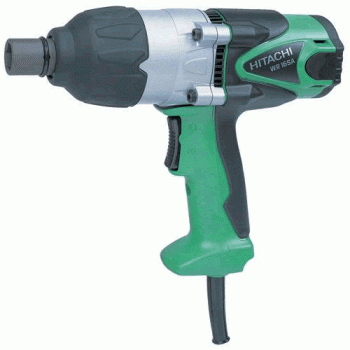 Product ID: HIT_WR16SA
Please use this reference number at any time when dealing with us so that we can identify the product you are looking at as quickly as possible.
(Please note this reference number will not be of any use to any other party except us.)
Related Products: See all related products
Manufacturer: Hitachi
Warranty: Click here for info
Parts: Click here for info
Visit the Hitachi website to determine the part required and let us know so we can get you a price.
Price: £285.99 (£343.19 inc VAT)
Error! Sorry there has been a problem adding your items to the cart.
Hitachi WR16SA Impact Wrench ½" Square Drive 480 Watt (110/240 Volt)
Most powerful wrench in its class at 360Nm (266 ft-lbs)
Soft grip handle for greater comfort and control
Innovative body design
½" square drive
Specifications:
Capacity - Bolt M12-M22
Capacity - High Tensile Bolt M12-M16
Torque - 360Nm (266ft-lbs)
Square Drive - 12.7mm (½")
Power Input - 480 Watt
No-Load Speed - 1,900 minute
Full-Load Impact Rate - 2,100 minute
Overall Length - 258mm
Weight - 2.8kg
Standard Inclusive Equipment: Wrench, Side Handle, Cutter Set
Sorry! There are currently no reviews for this product.
Thank you! Your review has been submitted for approval.
I decided to buy the saw and a few clicks later I was finished and the goods arrived the next day. w...
David on 24. Oct
Can't recommend them more so helpfull aaa!...
NEIL o'connor on 28. Oct
Ordering is a painless, friendly experience and the delivery lead time is really good. I've only pla...
Brett at Atelier Developements Ltd on 21. Oct