JSP Harness & Lanyard Kit FA9901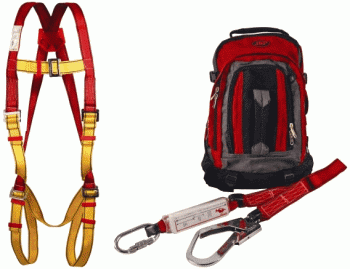 Product ID: FA9901
Please use this reference number at any time when dealing with us so that we can identify the product you are looking at as quickly as possible.
(Please note this reference number will not be of any use to any other party except us.)
Manufacturer: JSP
Warranty: Click here for info
1 year warranty on Powercaps and Jetstreams only.
Price: £68.95 (£82.74 inc VAT)
Error! Sorry there has been a problem adding your items to the cart.
Want this item second hand?

JSP Harness & Lanyard Kit FA9901
The FA9901 JSP Harness & Lanyard Kit is the most popular fall arrest kit in their range.
It comprises of the JSP Pioneer S Full Body Harness and the JSP Vertex 8106 Shock Absorbing Webbing Lanyard with scaffold hook and 1.75 metre SC karabiner, contained in a Handy Rucksack
Sorry! There are currently no reviews for this product.
Thank you! Your review has been submitted for approval.