M6 x 75mm Spring Toggle (per 100)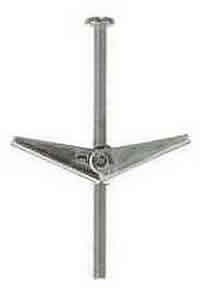 Product ID: stm675
Please use this reference number at any time when dealing with us so that we can identify the product you are looking at as quickly as possible.
(Please note this reference number will not be of any use to any other party except us.)
Manufacturer: Buildex
Price: £22.27 (£26.72 inc VAT)
Error! Sorry there has been a problem adding your items to the cart.
Quantity: Price shown is for one carton containing 100 spring toggles including the machine screws.
Features:Spreads load over wide area for extra load capacity. Machine screw for easier tightening and to prevent thread stripping under load.
Typical Application: For fixing to cavity walls and ceilings of low structural strength.

"M6 x 75mm Spring Toggle (per 100)" By Peter Derwent on

5/5
Ideal for fixing pictures or radiators or whatever really to plasterboard and cavity walls. And actually cheaper than screwfix and tool station when you work it out as they sell these in packs of 20 or 25, these are priced per 100.
---
Thank you! Your review has been submitted for approval.
Reviews
Great service...easy to use. What more can I say...!!...
Douglas on 1. Sep
Good Dewalt Saw, Fast Delivery...
Paul Hillier on 29. Aug
I would certainly use this company in the future a realy good supplier...
michael on 27. Aug