Milwaukee DD2-160XE/K Diamond Drill (110/240 Volt)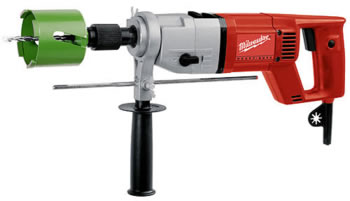 Product ID: dd2160xek
Please use this reference number at any time when dealing with us so that we can identify the product you are looking at as quickly as possible.
(Please note this reference number will not be of any use to any other party except us.)
Manufacturer: Milwaukee
Warranty: 3 years
The end user warranty period is 12 months and begins on the date that the unit was purchased. This must be documented by an invoice or other proof of purchase. Products in the hire industry are excluded from this 12 month warranty.
Warranties can be extended on tools purchased from 2008 in the countries listed at http://service.milwaukee-et.com to 3 years provided that the end consumers register their newly acquired tools for the extended warranty online within four weeks of the date of purchase.
A warranty repair is free of charge. It does not constitute an extension or a new start of the warranty period. Exchanged parts become our property. In some countries delivery charges or postage will have to be paid by the sender.
Click here for more information
Price: £339.99 (£407.99 inc VAT)
Error! Sorry there has been a problem adding your items to the cart.
Milwaukee DD2-160XE/K Diamond Drill (110/240 Volt)
Metal gearbox for long service life
2-speed gear box
Friction clutch in both gears, additional electronic safety clutch
Electronics: Softstart via accelerator-switch for precision-drilling and motor overload protection
High-spindle torque
Impact action

Available in 110 or 240 Volt Versions
| | |
| --- | --- |
| Technical Data | |
| Power Input 240 Volt | 1,500 watts |
| Power Input 110 Volt | 1,100 watts |
| Max. Drilling Capacity in Masonry or Brick | 162mm |
| No Load Hammer Stroke (low) | 17,600rpm |
| No Load Hammer Stroke (high) | 48,000rpm |
| No Load Speed (1st gear) | 0 - 1,100rpm |
| No Load Speed (2nd gear) | 0 - 3,000rpm |
| Stalling Torque (1st gear) | 65Nm |
| Stalling Torque (2nd gear) | 24Nm |
| Chuck Reception | M18 x 2.5 |
| Weight | 4.2Kg |
Standard Equipment: 4 Metre Cable, Handle and Handle Extension Bar, 3-Jaw Chuck and Key, Metal Carry Case
Sorry! There are currently no reviews for this product.
Thank you! Your review has been submitted for approval.
I decided to buy the saw and a few clicks later I was finished and the goods arrived the next day. w...
David on 24. Oct
Can't recommend them more so helpfull aaa!...
NEIL o'connor on 28. Oct
Ordering is a painless, friendly experience and the delivery lead time is really good. I've only pla...
Brett at Atelier Developements Ltd on 21. Oct