Milwaukee PHE 40 SQ Heavy Duty SDS-Max Combi Hammer / Breaker (110/240 Volt)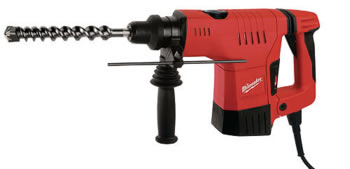 Product ID: MIL_PHE40SQ
Please use this reference number at any time when dealing with us so that we can identify the product you are looking at as quickly as possible.
(Please note this reference number will not be of any use to any other party except us.)
Manufacturer: Milwaukee
Warranty: 3 years
The end user warranty period is 12 months and begins on the date that the unit was purchased. This must be documented by an invoice or other proof of purchase. Products in the hire industry are excluded from this 12 month warranty.
Warranties can be extended on tools purchased from 2008 in the countries listed at http://service.milwaukee-et.com to 3 years provided that the end consumers register their newly acquired tools for the extended warranty online within four weeks of the date of purchase.
A warranty repair is free of charge. It does not constitute an extension or a new start of the warranty period. Exchanged parts become our property. In some countries delivery charges or postage will have to be paid by the sender.
Click here for more information
Price: £439.00 (£526.80 inc VAT)
Error! Sorry there has been a problem adding your items to the cart.
Milwaukee PHE 40 SQ Heavy Duty SDS-Max Combi Hammer / Breaker (110/240 Volt)
Features:
Best power-to-weight ratio in its class: a massive 10.5 joules in every blow from a tool that weights under 6 kg
Efficient 1005 watt motor with Electronic Feedback Control Circuitry (EFCC) for consistently high performance
AVS - advanced antivibration system dramatically lowers the level of vibration feedback to the user, and makes for more comfortable operation
Roto-stop and vario-lock for maximum control when doing light chiselling work
Fully insulated metal gearbox for maximum stability
SDS- max tool holder
Service warning light provides up to 8 hours notice of carbon brushes wearing out, giving the user time to bring the tool to a service station
Safety clutch protects both the operator and the machine if the tool should block
Speed control dial - ideal for applications where full power is not needed, for example when cutting perforated brick or gouging conduit channels in plaster
QUIK-LOK - patented system for fast change of cable
| | |
| --- | --- |
| Technical Specifications | |
| Power input | 1005 watt |
| Drilling dia. in concrete | 40 mm |
| Drilling diameter with core cutter | 105 mm |
| Drilling diameter with tunnel bit | 68 mm |
| Blow energy | 10.5 J |
| Blow rate (no-load) | 1700 - 3400 bpm |
| No-load speed | 190 - 385 rpm |
| Weight | 6.0 kg |
Standard Inclusive Equipment: 4m QUIK-LOK Cable, Additional Handle, Carry Case