Pirelli / Prysmian FP Firefix Double Red Cable Clips - 02 Size (per 200)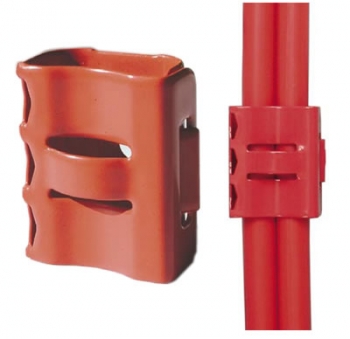 Product ID: ITW_921623
Please use this reference number at any time when dealing with us so that we can identify the product you are looking at as quickly as possible.
(Please note this reference number will not be of any use to any other party except us.)
Related Products: See all related products
Manufacturer: ITW
Warranty: Click here for info
2 year warranty on all tools not consumables or accessories.
Price: £129.00 (£154.80 inc VAT)
Error! Sorry there has been a problem adding your items to the cart.
Pirelli / Prysmian FP Firefix Double Red Cable Clips - 02 Size. (Draka Firetuf Firefix)
Boxed in 200's for use with the Pulsa 700E and Pulsa 800E
The system utilises gas nailing technology to install fire performance cables. Unlike conventional clipping methods, this is an extremely fast and easy way to fix FP200 Gold® and FP PLUSTM cable. It offers installation cost savings of up to 50%. The FP FIREFIXTM clip is a new fixing for FP200 Gold® and FP PlusTM cables. It is an alternative to "P" and saddle clips and allows the fixings to be installed prior to the cable, reducing the need for and electrician at this stage of fixing..
Features:
Easy to install - no need for drilling, plugging and screwing
Up to 10 times quicker to install than conventional cable clipping methods
Tool does NOT use an explosive charge
Cost savings of up to 50% relating to installation
Reduced installer exposure to tool vibration
With the focus on installation and speed that PFI jobs usually entail - FP FIREFIX™ offers an ideal solution
One tool allows installtion on to a variety of base materials
10 year warranty offered on Prysmian FP cable system - when FP FIREFIX™ is used to install FP cables.
Corrosion resistant stainless steel with red coating
Clip designed to securely hold either one or two cables
Cable Diameter suitability = 8.0 < D < 8.5mm
Meets the cable support requirements of BS5839-1:2002
| | |
| --- | --- |
| Specifications | |
| Box Quantity | 200 |
| Size | 2 core x 1.5mm2 |
| Colour | Red |
"Pirelli / Prysmian FP Firefix Double Red Cable Clips - 02 Size (per 200)" By Mi on

4/5
We purchased some of these clips to go with the Pulsa guns they seem expensive for what they are but they are absolutely essential for the application we were using them for. And actually despite their high price these were actually the cheapest price we found
---
Thank you! Your review has been submitted for approval.
Reviews
I decided to buy the saw and a few clicks later I was finished and the goods arrived the next day. w...
David on 24. Oct
Can't recommend them more so helpfull aaa!...
NEIL o'connor on 28. Oct
Ordering is a painless, friendly experience and the delivery lead time is really good. I've only pla...
Brett at Atelier Developements Ltd on 21. Oct