Clarke SEV11C100 Industrial Air Compressor (WIS) (1 Ph)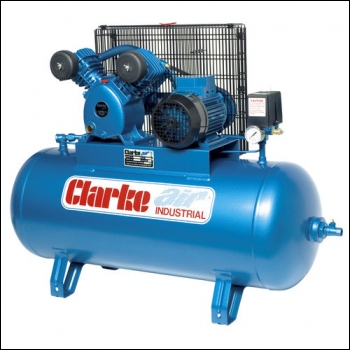 Product ID: clarke_2091230
Please use this reference number at any time when dealing with us so that we can identify the product you are looking at as quickly as possible.
(Please note this reference number will not be of any use to any other party except us.)
Related Products: See all related products
Manufacturer: Clarke
Warranty: Click here for info
List Price: £647.95 (£777.54 inc VAT)
Web Price: £453.53 (£544.24 inc VAT)
Error! Sorry there has been a problem adding your items to the cart.
SEV11C100 Industrial Air Compressor (WIS) (1 Ph)
Solidly built, this industrial air compressor has been designed to offer both performance and long term reliability. Featuring an efficient and dependable cast iron 'V' type compressor pump, robust construction for a range of commercial and industrial users.
9cfm air displacement from a cast iron `V` type twin cylinder compressor pump
100 Litre air receiver (CE certified)
2hp, 230v, 1ph motor continuously rated with overload protection
10.5bar (150psi) maximum working pressure controlled by fully automatic pressure switch
Compressor also comes with a safety valve, pressure gauge, air outlet valve & drain tap
Pump features positive splash feed lubrication for smooth operation & extended life
Dimensions (LWH) 1010x380x825mm
Model No: SEV11C100
Part No: 2091230
Sorry! There are currently no reviews for this product.
Thank you! Your review has been submitted for approval.
I decided to buy the saw and a few clicks later I was finished and the goods arrived the next day. w...
David on 24. Oct
Can't recommend them more so helpfull aaa!...
NEIL o'connor on 28. Oct
Ordering is a painless, friendly experience and the delivery lead time is really good. I've only pla...
Brett at Atelier Developements Ltd on 21. Oct