Everbuild Stainblock - 400ml - Box Of 12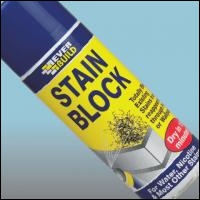 Product ID: eb_STAINSTP
Please use this reference number at any time when dealing with us so that we can identify the product you are looking at as quickly as possible.
(Please note this reference number will not be of any use to any other party except us.)
Manufacturer: Everbuild
Price: £35.64 (£42.77 inc VAT)
Error! Sorry there has been a problem adding your items to the cart.
STAINBLOCK
Pack Size: 400ML
Box Quantity: 12
Stainblock is a spray applied heavily pigmented white paint which permanently prevents existing stains from water, mould, rust, nicotine, grease, soot, crayon showing through subsequent coatings. Quick drying, overcoat in 15 mins.
Quick curing/drying.
Interior use.
Overpaintable when cured.
Solvent based.
Sorry! There are currently no reviews for this product.
Thank you! Your review has been submitted for approval.
I decided to buy the saw and a few clicks later I was finished and the goods arrived the next day. w...
David on 24. Oct
Can't recommend them more so helpfull aaa!...
NEIL o'connor on 28. Oct
Ordering is a painless, friendly experience and the delivery lead time is really good. I've only pla...
Brett at Atelier Developements Ltd on 21. Oct