Sterling KC50HD 50 Key Heavy Duty Cabinet with Clear Perspex Window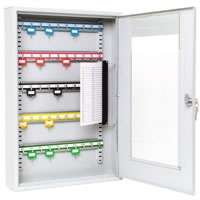 Product ID: ster_kc50hd
Please use this reference number at any time when dealing with us so that we can identify the product you are looking at as quickly as possible.
(Please note this reference number will not be of any use to any other party except us.)
Related Products: See all related products
Manufacturer: Sterling
Price: £99.50 (£119.40 inc VAT)
Error! Sorry there has been a problem adding your items to the cart.
Sterling KC50HD 50 Key Heavy Duty Cabinet with Clear Perspex Window
Suitable for office and commercial properties. A comprehensive, fully adjustable cabinet to control the movement and management of keys. Window allows easy visual check of keys. Supplied with adjustable colour coded hook rails & plastic label tags and removable indexing system. Secure lock, supplied with two keys and indicator to show locked or unlocked position. Wall fixings supplied.
Size
Width 380mm
Height 550mm
Depth 80mm
Please note that picture is for illustration only
Sorry! There are currently no reviews for this product.
Thank you! Your review has been submitted for approval.
Great service...easy to use. What more can I say...!!...
Douglas on 1. Sep
Good Dewalt Saw, Fast Delivery...
Paul Hillier on 29. Aug
I would certainly use this company in the future a realy good supplier...
michael on 27. Aug