Sterling KC60S 60 Key Security Cabinet with Digital Lock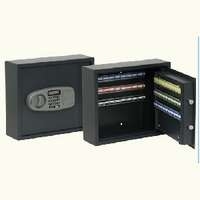 Product ID: ster_kc60s
Please use this reference number at any time when dealing with us so that we can identify the product you are looking at as quickly as possible.
(Please note this reference number will not be of any use to any other party except us.)
Related Products: See all related products
Manufacturer: Sterling
Price: £109.00 (£130.80 inc VAT)
Error! Sorry there has been a problem adding your items to the cart.
Sterling KC60S 60 Key Security Cabinet with Digital Lock
Key Security Safes
Heavy duty steel cabinet: body thickness 2mm door thickness 4mm
Double bolted
Electronic combination lock with LCD display
Allows up to 2 separate access codes
Emergency key override
Powder coated
Adjustable colour coded hook rails
Key tags included
Size
Width 400mm
Height 340mm
Depth 120mm
Please note that picture is for illustration only
Sorry! There are currently no reviews for this product.
Thank you! Your review has been submitted for approval.
Ordered an item on-line and delivery was within 3 working days as promised. Kept updated on order s...
Mrs Alyson Forsyth on 30. Sep
I would recommend this company the sevice from taking order to deliveryfirst class...
Keith Fraser (Kent Fire Consultants Ltd) on 30. Sep
Would highly recommend. Good price with next day AM delivery. Thank you...
Bob Bowry on 24. Sep