Topcon LC-4X Internal / External Multi Purpose Laser
This is now a "Discontinued Product"
Please see replacement by following the button below.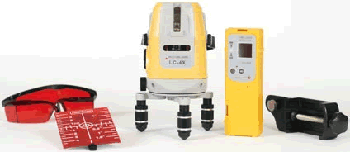 Product ID: LC4X
Please use this reference number at any time when dealing with us so that we can identify the product you are looking at as quickly as possible.
(Please note this reference number will not be of any use to any other party except us.)
Related Products: See all related products
Manufacturer: Topcon
Warranty: Click here for info
5 year warranty on all TopCon lasers apart from PLS lasers which are only 2 years. Please contact us for more information.
Price: £265.00 (£318.00 inc VAT)
Error! Sorry there has been a problem adding your items to the cart.
Topcon LC-4X Internal / External Multi Purpose Laser
The LC-4X is a complete multi-line Line-Cross laser which gives you multiple lines and plump points to 180°
Featuring full-crossline projection, high-speed self-leveling, wireless operation and robust body
The LC-4X significantly increases work efficiency in leveling, plumbing, squaring, alignment and layout applications
Extreme high visibility
Projects 3 vertical lines and 1 horizontal line as well as a plumb up and down
Instant self-levelling within 3 seconds
40 metre range with the standard laser receiver
IP 54 dust and water protection
18 month warranty
Standard Inclusive Equipment: Sensor LS-VHX With Holder, 9 Volt Battery, 3 x AA Alkeline Battery, Target, Laser Glasses, Operating Manual, Aluminium Carry Case, 18 Month Warranty
Sorry! There are currently no reviews for this product.
Thank you! Your review has been submitted for approval.
I decided to buy the saw and a few clicks later I was finished and the goods arrived the next day. w...
David on 24. Oct
Can't recommend them more so helpfull aaa!...
NEIL o'connor on 28. Oct
Ordering is a painless, friendly experience and the delivery lead time is really good. I've only pla...
Brett at Atelier Developements Ltd on 21. Oct