2525 reviews
UK Sales 01737 783 101
sales@sitebox.ltd.uk
We offer FREE UK Mainland delivery for orders over £50 (ex VAT exclusions apply)
Arbortech AS160 900 Watt Industrial Oscillating Cutting Saw 240v only
This is now a "Discontinued Product"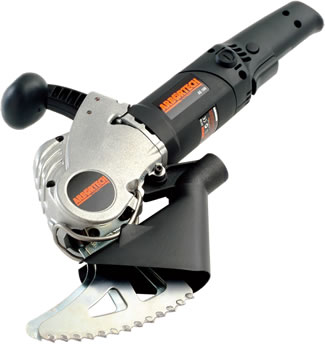 Product ID: ARB_AS160
Please use this reference number at any time when dealing with us so that we can identify the product you are looking at as quickly as possible.
(Please note this reference number will not be of any use to any other party except us.)
Related Products: See all related products
Manufacturer: Arbortech
Warranty: 1 year
The warranty period for any new tool is 12 months from point of purchase.
No extensions available.
Price: £665.00 (£798.00 inc VAT)
25 people have bought this item!
Error! Sorry there has been a problem adding your items to the cart.
Arbortech AS160 900 Watt Industrial Oscillating Cutting Saw 240 volt only
The AS160 is a revolution in cutting technology. Using a unique patented cutting motion and two forward facing blades, the AS160 is able to perform with degrees of effectiveness and safety which were previously impossible.
Designed for the professional, the AS160 is made to exacting standards.
It is ideal for a variety of cutting tasks making it the most versatile and useful tool you will ever own
The AS160 is able to cut bricks, mortar, soft sandstone, natural limestone, timber, plastics, foams or any combination of these materials.
It will also cut tree-stumps (through dirt and sand) and is ideal for pruning and other landscaping tasks.
Cuts masonry materials dry, with significantly less respirable dust than disc cutters.
Unlike disc cutters the AS160 does not throw dust into the air, or kickback.
The AS160 is the only small, handheld saw able to cut to depths of 120mm (plunge blades) in masonry materials.
The AS160 is able to cut square corners, requiring no over cutting, or bolstering.
Use the AS160 to cut directly into flush walls without stitch drilling.
Ideal for cutting brickwork and walls in established and furnished houses.
Due to its ability to plunge cut to depths of 120mm, cut square corners and cut to single brick height

Applications:

Renovations, alterations & building repair.
Toothing brickwork for extensions.
Fast removal of in-built objects such as anchors (wall plates, joists, trusses), frames, sills, beams, lintels, wall units and/or steps.
Expansion joints or wall section replacement.
Removal of in-built furniture, plumbing or vanities.
Cutting of archways and windows.
Tuckpointing.
Repairing cracked walls.

Installation:

Vents, Ducts, Registers, Plumbing, Electrical cabling & conduit, Electrical goods (air-conditioners, dryers, wall ovens, heaters, meter boxes, fans), Windows, Ablutions, Recycling units, Pass through
| | |
| --- | --- |
| Technical Specifications | |
| Cutting Width | 6.5mm - 7.2mm dependant on blades |
| Weight | 4.3kg with cutting blades |
| Dimensions (without blades) | 345mm x 75mm x 210mm (L x W x H) |
| Noise Level | 108 dB max @ 1 metre |
| No Load Speed | 6,500 rpm |
| Electrical Rating | 240 Volt AC 50hz |
| Dust Extraction Vacuum Hose Interface | 30mm ID, EN 60335-2-69 |
| Belt Tension | 1mm max mid-span deflection with 25N deflection force |
| Blade Mount Bolt Torque | 14Nm un-lubricated |
| CE Compliance | EN 50144-1: 1999 incl. Amdt1, and EN 50144 2-11: 1997 |
Supplied With: Moulded Case, 1 x Set General Purpose Blades, 1 x Set Mortar Plunge Blades
Brand: Arbortech
Identifier: AS160
Product Document Download(s)

Parts Diagram
---
"Arbortech AS160 900 Watt Industrial Oscillating Cutting Saw 240v only" By Peter P on Sun 17th July 2016

5/5
I have had an Arbortech Saw for 6 years now and find it worth every penny I paid for it. It makes removing and replacing bricks a doddle, making a really neat job every time and it is so quick. The blades are also easy to sharpen which is handy as they are not cheap. With dust extraction it makes it a clean job too. I even find I don't need a dust mask. The only downside I guess is the rubber extraction mouth. It comes off easily so sometimes needs taping on and also restricts the depth of cut, so it needs removing if you need to cut deeper than one brick depth, but that is a small prick to pay to it's overall efficiency.
---
"Arbortech AS160 900 Watt Industrial Oscillating Cutting Saw 240v only" By Philip L Mason on Mon 27th June 2016

5/5
Saw arrived as promised - brilliant service
---
Thank you! Your review has been submitted for approval.
Item Details
Brand new packaged items only.
Comes with a full manufacturer warranty (not including consumable products).
Please make use of any product reviews or youtube clips we have available to learn more about the item.
This item is usually delivered within 1 working day(s).
Website Details
SSL Certified Secure website to ensure secure online ordering.
Please return the item/s if not suitable for a full refund (within 7 working days of receipt).
We guarantee security of all your personal details, we do not pass on any customer information.
Accept all payment methods including all major Credit Cards, Paypal and Amazon Payments.
---
Ordering
Order online now using our Secure SSL Certified Secure website.
Add this product to your basket and come back at any time to complete the order.
Order by phone on 01737783101.
Order with an official purchase order by fax to 01737783102 OR by email to sales@sitebox.ltd.uk. We will check your account status or if you do not hold an account we will credit check your organisation, confirm and process your order. Please note the first order(s) will always need to be paid upfront unless you are a government linked organisation. Goods remain the property of Sitebox Ltd until paid for in full as per our full terms and conditions.
Warranty Information
The warranty period for any new tool is 12 months from point of purchase.
No extensions available.
Reviews

Although original order not in stock slightly more expensive product was and was delivered when prom...
IAN ROY HARRIS on 26th May 2018

Good product, decent price and very prompt delivery. What's not to like!...
stewart coverdale on 25th May 2018

Excellent service and a great price, item arrived the next day as promised, I would recommend Sitebo...
Trevor on 25th May 2018