3284 reviews
UK Sales 01737 783 101
sales@sitebox.ltd.uk
We offer FREE UK Mainland delivery for orders over £50 (ex VAT exclusions apply)
Asgard 188 Safe & Secure Gas Storage Cage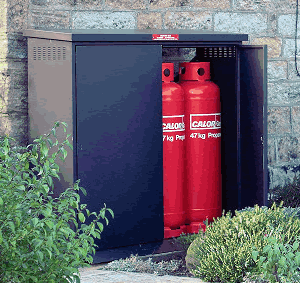 Product ID: ASGARD_188
Please use this reference number at any time when dealing with us so that we can identify the product you are looking at as quickly as possible.
(Please note this reference number will not be of any use to any other party except us.)
Related Products: See all related products
Manufacturer: Asgard
Warranty: Click here for info
Price: £545.00 (£654.00 inc VAT)
8 people have bought this item!
Error! Sorry there has been a problem adding your items to the cart.
Asgard 188 Safe & Secure Gas Storage Cage
The Asgard Asgas 188 unit has been tailor-made for the storage of four 47Kg propane gas bottles and is perfect for static caravans, park homes, rural retreats, lodges, and domestic/industrial use
All Asgas units have been selected as Calor Choice products
The Asgas 188 has a number of unique features, is available in 3 colours (Ivory, Dark Green and Dark Brown), and can be suited in with other Asgard Secure Steel Storage units to provide the complete storage solution
Unit has a tough, galvanised steel construction, which is then further protected by exterior quality, weather resistant paint
Gas cylinders can be chained to back rails for extra security
It has double lockable doors with a universal lock to enable gas supplier to gain entry and trap side bolts
The top lifts open for checking of regulator and access to shut off valves in case of emergency and features gas lifts to ease opening
There is a pre-drilled top rail with mounting plate for fitting of regulator (regulator not included) and vented slots in sides for gas dispersion
Includes removable base with integral ramp, allowing easy access to change over cylinders
Dimensions:
Height : 1,500mm - 1,549mm
Width : 1,700mm
Depth : 500mm
Weight : 68Kg
Available Colours:
Dark Green
Dark Brown
Ivory
Please Note: That before installation can take place a level, firm surface will be required. You may already have this available (e.g. concrete, tarmac, patio), but if not lay concrete or slabs (50mm/2" thick) before installation. The base must be solid, completely flat and secure. Minimum base dimensions required - 880mm x 500mm
Please note Asgard Products Are Made To Order Therefore Please Allow 14 Working Days For Quantities Of 1-5 & 21 Working Days For Larger Orders. Please ensure the item/s ordered are correct and the lead times given (which are general lead times) are suitable as they are made to order products and cannot be cancelled once the manufacturing process has been started!
DUE TO THE HEAVY AND BULKY NATURE OF THESE ITEMS AN EXTRA CARRIAGE CHARGE MAY BE APPLICABLE FOR CERTAIN DELIVERY ZONES!
Brand: Asgard
Identifier: ASGARD_188
Gas Bottle Storage Information
Small Storage / Display (up to 70kg)
No more than five bottles should be allowed on display with total contents no more than 70kg.
Bottles larger than 20kg should not be displayed in shops eg 47kg cylinders.
If the shop is below residential premises then no more than 15kg should be stored/ displayed.
No more than four bottles should be connected for demonstrating at any one time (total weight no more than 50kg).
Do not display on staircases, near emergency exits or near to flammable materials.
Bottles must be treated as FULL unless they are dummy bottles or have been certified as gas free. Only five cylinders are allowed - even if some of them are empty.
Storage up to 400KG
Quantities of LPG greater than those described above must be kept in a properly constructed store.
The storage area should be at least 1m from a site boundary, building etc. unless a fire wall is provided.
Only vehicles delivering LPG should be allowed within 1m of the storage area.
No opening into buildings, cellars or pits should be within 2m of an LPG storage area.
No flammable liquids, combustible, corrosive or oxidising material should be stored within 3m of an LPG store. Compressed oxygen must be kept 10m away from all flammable gases; these include propane, butane and dissolved acetylene.
The area should be kept clear of weeds and rubbish.
The storage of LPG should not hinder or endanger the means of escape from the premises.
The extent of the storage area should be clearly marked and suitable notices displayed prominently (available from Flogas).
Appropriate steps should be taken to prevent tampering and vandalism. In many cases it may be appropriate to enclose the storage area in a lockable cage.
The same restrictions apply to empty cylinders as to full ones.
Storage above 400KG
For larger storage, other safety requirements exist, including the maintenance of a minimum separation distance between bottle storage and any boundary, building or fixed source of ignition. This is determined by the total amount of LPG stored and the size of the largest stack of bottles - whichever gives the greatest distance. In certain circumstances this separation distance may be reduced by the use of a radiation wall. By complying with these separation distances and other safety requirements, Flogas are able to store upwards of 200 tonnes of bottles at our filling terminals.
For further information on cylinder storage please consult the LPGA Code of Practice no.7, available from the LP Gas Association, or get in touch with the Flogas Technical Department.
Gas Bottles Sizes Available
If you need to work out how many bottles fit in the cages above please find below a list of some of the gas bottles available.
| Cylinder | Type/Size | Height | Diameter |
| --- | --- | --- | --- |
| Butane: | 4.5kg | 340mm | 240mm |
| Butane: | 6kg BBQ Gas | 314mm | 306mm |
| Butane: | 7kg | 495mm | 256mm |
| Butane: | 15kg | 580mm | 318mm |
| Propane: | 3.9kg | 340mm | 240mm |
| Propane: | 5kg Patio Gas® | 314mm | 306mm |
| Propane: | 6kg | 495mm | 256mm |
| Propane: | 13kg Patio Gas | 580mm | 315mm |
| Propane: | 13kg | 580mm | 315mm |
| Propane: | 19kg | 800mm | 315mm |
| Propane: | 47kg | 1290mm | 375mm |
---
Sorry! There are currently no reviews for this product.
Thank you! Your review has been submitted for approval.
Item Details
Brand new packaged items only.
Comes with a full manufacturer warranty (not including consumable products).
Please make use of any product reviews or youtube clips we have available to learn more about the item.
This item is usually delivered within 21 working day(s).
Website Details
SSL Certified Secure website to ensure secure online ordering.
Please return the item/s if not suitable for a full refund (within 7 working days of receipt).
We guarantee security of all your personal details, we do not pass on any customer information.
Accept all payment methods including all major Credit Cards, Paypal and Amazon Payments.
---
Ordering
Order online now using our Secure SSL Certified Secure website.
Add this product to your basket and come back at any time to complete the order.
Order by phone on 01737783101.
Order with an official purchase order by fax to 01737783102 OR by email to sales@sitebox.ltd.uk. We will check your account status or if you do not hold an account we will credit check your organisation, confirm and process your order. Please note the first order(s) will always need to be paid upfront unless you are a government linked organisation. Goods remain the property of Sitebox Ltd until paid for in full as per our full terms and conditions.
Colour
| Option | Price Difference | |
| --- | --- | --- |
| Dark Green | none | |
| Dark Brown | none | |
| Ivory | none | |
Reviews

Great price, great service...
RC on 24th May 2019

Easy to order, easy to pay and delivered in a couple of days to the site of my choice....
Minster Handling Systems Limited on 24th May 2019

I would definitely recommend them great service...
Gary Heffernan on 24th May 2019