Bosch 36 Volt GBH 36VFLI3 SDS Plus Hammer Drill c/w 3 Batteries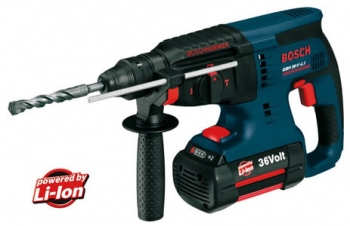 Product ID: GBH36VFLI
Please use this reference number at any time when dealing with us so that we can identify the product you are looking at as quickly as possible.
(Please note this reference number will not be of any use to any other party except us.)
Related Products: See all related products
Manufacturer: Bosch
Warranty: 1 year or 3 years if registered
Bosch Blue Power Tools
Professional Bosch power tools and lithium-ion batteries including chargers meet the highest quality demands. For this reason, we offer you a special service package. And it's free.
3-year warranty for power tools. This applies to all professional blue power tools and measuring instruments from Bosch. The warranty excludes high-frequency tools, production cordless screwdrivers and pneumatic tools, supplied accessories, battery packs and chargers.
2-year Premium Service for batteries and chargers. This applies to all professional blue Bosch lithium-ion batteries including chargers. If a defect occurs on a registered battery or charger during the term of the Battery Premium Service due to a material or manufacturing fault or due to wear, Bosch will replace it (possibly with a later model). Replaced batteries or chargers shall become the property of Bosch.
All you have to do is register your tool, lithium-ion battery or charger online within four weeks of purchase. The term of the warranty or service begins on the date of purchase.
Click here fore more Bosch warranty information.
Click here to register your Bosch product for warranty.
Bosch Green Garden Tools
Bosch gives you a two-year warranty on tools used for domestic purposes. During this period, our Repair Service including shipping of your faulty tool are free of charge.
Please note proof of purchase for the product will be required in order to make a warranty claim.
All Bosch Garden products come with a 2 year warranty, excluding batteries and chargers which are covered by a 12 month warranty.
Parts: Click here for info
Enter your products part number on the following website to get your products parts diagram.
Price: £459.99 (£551.99 inc VAT)
Error! Sorry there has been a problem adding your items to the cart.
Bosch 36 Volt GBH 36VFLI3 SDS Plus Hammer Drill c/w 3 Batteries
BOSCH GBH 36VFLI Cordless SDS Plus Hammer Drill QCC 3 x 2.6Amp Batteries
As powerful as corded - now with quick-change chuck
Due to its lithium-ion technology and new pneumatic impact mechanism (3 Joules), it drills as fast as the best 2-kilo mains powered hammer
Comes complete with a quick-change chuck that also makes it suitable for drilling in wood and metal with straight-shank drill bits
Versatile: drills holes up to 26mm and can also chisel a cable duct using the integrated chisel function
Bosch Electronic Cell Protection (ECP): protects the battery against overload, overheating and total discharge
Bosch heat management: ensures optimum heat radiation, thus reducing the battery temperature and protecting the cells against excessive heat
No memory effect: the battery can be charged regardless of the charging state at any time, without damaging the cells
No power loss: full battery power from the first to the last screw
Minimal self-discharge: a fully charged battery is fully ready for use, even if it has not been used for months
Turbo Charge: the 36 volt battery is charged to 80% after just 25 minutes
Technical Specifications
Power Input
600 watts
Power Output
430 watts
Single Impact Force
3.0 joules
Impact Rate @ Rated Speed
0 - 4260 bpm
Quick Change Chuck Width
1.5mm - 13mm
Max. Drilliing Diameter in Wood
4mm - 30mm
Max. Drilliing Diameter in Steel
4mm - 13mm
Max. Drilliing Diameter in Masonry
4mm - 26mm
Spindle Collar
50mm
Rated Speed
0 - 960 rpm
Battery Voltage
36 volt
Battery Capacity
2.6Ah
Charge Time (approx)
45 minutes
Weight (including battery)
4.5Kg
Standard Inclusive Equipment: Quick Charger AL 3640 CV, 3 x 2.6Amp Batteries, Auxiliary Handle, Depth Stop, Keyless Chuck, Carry Case
Sorry! There are currently no reviews for this product.
Thank you! Your review has been submitted for approval.