3348 reviews
UK Sales 01737 783 101
sales@sitebox.ltd.uk
We offer FREE UK Mainland delivery for orders over £50 (ex VAT exclusions apply)
Hitachi CR13V Reciprocating Sabre Saw 1010 Watt (110/240 Volt)
This is now a "Discontinued Product" - (Item No Longer Available)
Replacement Product!
This product has been replaced. Click on the button below to access it.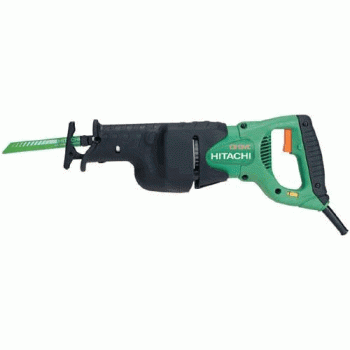 Product ID: HIT_CR13V
Please use this reference number at any time when dealing with us so that we can identify the product you are looking at as quickly as possible.
(Please note this reference number will not be of any use to any other party except us.)
Related Products: See all related products
Manufacturer: Hitachi
Warranty: Click here for info
Parts: Click here for info
Visit the Hitachi website to determine the part required and let us know so we can get you a price.
Price: £111.30 (£133.56 inc VAT)
17 people have bought this item!
Error! Sorry there has been a problem adding your items to the cart.
Hitachi CR13V Reciprocating Sabre Saw 1010 Watt (110/240 Volt)
Tool free blade changing system
Variable speed
Adjustable front shoe
Large trigger switch
External brush caps
Blade can be fitted facing up or down for extra versatility
Specifications:
Power Input - 1,010 watts
No Load Speed - 0 - 2,800 rpm
Length of Stroke - 29mm
Overall Length - 435mm
Capacity:
Pipe - 130mm
Steel Plate - 19mm
Wood - 300mm
Weight - 3.3Kg
Standard Inclusive Equipment: Blade, Wrench, Carry Case
Brand: Hitachi
Identifier: CR13V
---
"Hitachi CR13V Reciprocating Sabre Saw 1010 Watt (110/240 Volt)" By Stuart Colvill on Tue 22nd January 2019

5/5
Order receaved as promised,receaved with no damage thanks sitebox
---
Thank you! Your review has been submitted for approval.
Item Details
Brand new packaged items only.
Comes with a full manufacturer warranty (not including consumable products).
Please make use of any product reviews or youtube clips we have available to learn more about the item.
This item is usually delivered within 2 working day(s).
Website Details
SSL Certified Secure website to ensure secure online ordering.
Please return the item/s if not suitable for a full refund (within 7 working days of receipt).
We guarantee security of all your personal details, we do not pass on any customer information.
Accept all payment methods including all major Credit Cards, Paypal and Amazon Payments.
---
Ordering
Order online now using our Secure SSL Certified Secure website.
Add this product to your basket and come back at any time to complete the order.
Order by phone on 01737783101.
Order with an official purchase order by fax to 01737783102 OR by email to sales@sitebox.ltd.uk. We will check your account status or if you do not hold an account we will credit check your organisation, confirm and process your order. Please note the first order(s) will always need to be paid upfront unless you are a government linked organisation. Goods remain the property of Sitebox Ltd until paid for in full as per our full terms and conditions.
Reviews

Fast,efficient next day delivery. Ordered Cordex at 9pm delivered next day. No shopping cost. Highly...
Paul Webster on 17th Jun 2019

Great product One call Next day delivery Five star service...
Gary on 15th Jun 2019

Excellent service, prompt delivery....
Terry Delieu on 14th Jun 2019