3116 reviews
UK Sales 01737 783 101
sales@sitebox.ltd.uk
We offer FREE UK Mainland delivery for orders over £50 (ex VAT exclusions apply)
Karcher K3.200 +250 - Compact Pressure Washer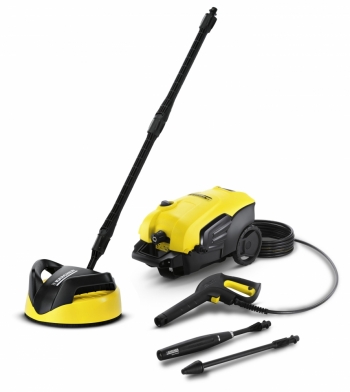 Product ID: krchr_k3.200_t250
Please use this reference number at any time when dealing with us so that we can identify the product you are looking at as quickly as possible.
(Please note this reference number will not be of any use to any other party except us.)
Related Products: See all related products
Manufacturer: Karcher
Warranty: 1 year
Price: £151.99 (£182.39 inc VAT)
Error! Sorry there has been a problem adding your items to the cart.
Karcher K3.200 +250 - Compact Pressure Washer
The K3.200 belongs to Kärcher's new water-cooled Compact range. This new generation of pressure washer packs high-performance into a space-saving design. Compact dimensions allow for convenient transportation and storage; as well as making the machines more robust and durable. A key feature is the ability to operate in the upright or lay-flat position. The lay-flat position provides extra stability and avoids the possibility of accidently pulling the machine over with the hose. The new Compact range features all of Kärcher's latest technology, including the quick-connect hose system and unique water-cooled motor design. Water cooling makes the motor more hard wearing, and gives the machine a 3 year warranty, instead of 2. Supplied with Dirtblaster lance and Vario power lance. If you need a portable, yet highly powerful pressure washer, the Compact range is designed for you.
Specifications
New generation washer with compact and rugged design
Complete with telescopic handle, vario power lance and T250 surface cleaner
Can be used upright or laid flat
Motor: 1.7kW
Water Flow: 420 litres per hour
Pressure: 20-120 bar
Dimensions: 514 x 294 x 270mm - Weight: 12kg
Brand: Karcher
Identifier: K3.200 +250
Sorry! There are currently no reviews for this product.
Thank you! Your review has been submitted for approval.
Item Details
Brand new packaged items only.
Comes with a full manufacturer warranty (not including consumable products).
Please make use of any product reviews or youtube clips we have available to learn more about the item.
This item is usually delivered within 5 working day(s).
Website Details
SSL Certified Secure website to ensure secure online ordering.
Please return the item/s if not suitable for a full refund (within 7 working days of receipt).
We guarantee security of all your personal details, we do not pass on any customer information.
Accept all payment methods including all major Credit Cards, Paypal and Amazon Payments.
---
Ordering
Order online now using our Secure SSL Certified Secure website.
Add this product to your basket and come back at any time to complete the order.
Order by phone on 01737783101.
Order with an official purchase order by fax to 01737783102 OR by email to sales@sitebox.ltd.uk. We will check your account status or if you do not hold an account we will credit check your organisation, confirm and process your order. Please note the first order(s) will always need to be paid upfront unless you are a government linked organisation. Goods remain the property of Sitebox Ltd until paid for in full as per our full terms and conditions.
Reviews

Swift service from sitebox. Had a problem with the product instructions that were vague but nothing ...
Peter Tams on 21st Mar 2019

Quick and easy to deal with. Next day delivery. Happy with Sitebox....
Miroslav Mihaylov on 21st Mar 2019

Does what it says on the tin. Easy to order, quick to deliver. Very happy with my purchase...
Sarah Cox on 20th Mar 2019