2010 reviews
UK Sales 01737 783 101
sales@sitebox.ltd.uk
We offer FREE UK Mainland delivery for orders over £50 (ex VAT exclusions apply)
Leica DISTO™ D2 Laser Measure
This is now a "Discontinued Product"
Replacement Product!
This product has been replaced. Click on the button below to access it.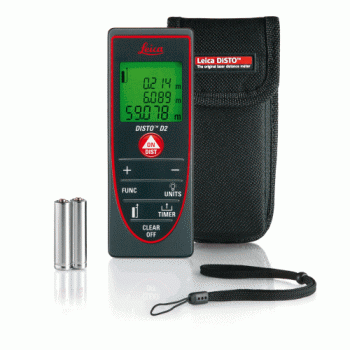 Product ID: DISTO2
Please use this reference number at any time when dealing with us so that we can identify the product you are looking at as quickly as possible.
(Please note this reference number will not be of any use to any other party except us.)
Barcode: 07640110690765
Related Products: See all related products
Manufacturer: Leica
Warranty: Click here for info
Price: £74.95 (£89.94 inc VAT)
29 people have bought this item!
Error! Sorry there has been a problem adding your items to the cart.
Leica DISTO™ D2 Laser Measure
Leica DISTO ™ D2 is now well established in the market as the world's smallest laser measuring device
As well as the traditional survey markets the Leica DISTO ™ D2 is the chosen laser measuring tool for many indoor trades such as electricians, plumbers and flooring contractors
This small but robust measurer is smaller than many mobile phones but is packed with easy to use basic measuring functions
With a 1.5mm accuracy laser and a range of up to 60 metres it is ideal for most internal applications
The Leica DISTO ™ D2 is very easy to use and is a true Leica laser product at a very competitive price and still including a 3 Year Warranty
Thanks to its ergonomic and compact design with soft grip edging, the Leica DISTO ™ D2 sits securely in your hand
The laser measure is water resistant and has a foil keypad with clear symbols for ease of use
The measure button is arrange ergonomically and the function button contains the area, volume and stack-out functions
The Leica DISTO ™ D2 has a three line display that shows the single and final results of different measurements, such as area and volume calculations, at the same time
The results are easy to read, even in the dark, thanks to the illuminated display
The addition of a manually activated end piece adds the flexibility of measuring into corners
At the touch of a button, distances can be measured and areas or volumes can be calculated with fast, reliable results
The last ten measurements taken are stored automatically and can be recalled at any time
Addition and subtraction of distances and areas is child's play with the Leica DISTO ™ D2
The flip-out end-piece guarantees accurate results when measuring from edges or corners because the Leica DISTO ™ D2 can be placed precisely where you are measuring from
Two stake out positions using equal distances is also a quick and easy task: the device gives an audible signal as soon as a preset distance or a multiple thereof is reached
Smallest Device in The Market
Specifications:
Typical Accuracy ± 1.5mm
Range Inside: 60 metres
Robust with IP54
Area and Volume Functions
Simple to use
Easy to handle
Illuminated 3 Line Display
Supplied With: Case, Batteries, Strap
Brand: Leica
Identifier: LEI762200
---
"Leica DISTO™ D2 Laser Measure" By Edward on Wed 4th May 2016

5/5
Great service,delivery and sorting a problem for me
---
"Leica DISTO™ D2 Laser Measure" By Declan H on Mon 23rd March 2015

5/5
Provides quick simple accurate measuring and nice and compact too
---
"Leica DISTO™ D2 Laser Measure" By Dermot W, Co Louth on Sat 31st May 2014

5/5
Unbeatable really in terms of smallness, accuracy and price. Used this laser for years and apart from the big complex applications this laser actually does a terrific job for so many site applications. 5 Stars Product!!
---
Thank you! Your review has been submitted for approval.
Item Details
Brand new packaged items only.
Comes with a full manufacturer warranty (not including consumable products).
Please make use of any product reviews or youtube clips we have available to learn more about the item.
This item is usually delivered within 1 working day(s).
Website Details
SSL Certified Secure website to ensure secure online ordering.
Please return the item/s if not suitable for a full refund (within 7 working days of receipt).
We guarantee security of all your personal details, we do not pass on any customer information.
Accept all payment methods including all major Credit Cards, Paypal and Amazon Payments.
---
Ordering
Order online now using our Secure SSL Certified Secure website.
Add this product to your basket and come back at any time to complete the order.
Order by phone on 01737783101.
Order with an official purchase order by fax to 01737783102 OR by email to sales@sitebox.ltd.uk. We will check your account status or if you do not hold an account we will credit check your organisation, confirm and process your order. Please note the first order(s) will always need to be paid upfront unless you are a government linked organisation. Goods remain the property of Sitebox Ltd until paid for in full as per our full terms and conditions.
Reviews

Smooth transaction...
Dennis Carter on 18th Oct 2017

Excellent service...
Dave Maskell on 17th Oct 2017

Ordered a Hyundai Lawnmower at 13.00hrs and had it delivered following morning, excellent service!...
Colin Middleton on 17th Oct 2017