3376 reviews
UK Sales 01737 783 101
sales@sitebox.ltd.uk
We offer FREE UK Mainland delivery for orders over £50 (ex VAT exclusions apply)
LEICA DISTO D510 DISTANCE MEASURER WITH TRIPOD, BRACET + ACCESSORIES KIT ALL IN CARRYING CASE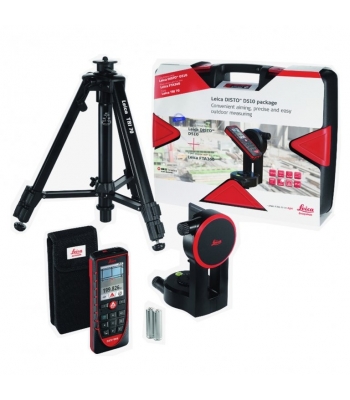 Product ID: D510_KIT
Please use this reference number at any time when dealing with us so that we can identify the product you are looking at as quickly as possible.
(Please note this reference number will not be of any use to any other party except us.)
Related Products: See all related products
Manufacturer: Leica
Warranty: Click here for info
Price: £399.99 (£479.99 inc VAT)
14 people have bought this item!
Error! Sorry there has been a problem adding your items to the cart.
LEICA DISTO D510 DISTANCE MEASURER WITH TRIPOD, BRACET + ACCESSORIES KIT ALL IN CARRYING CASE
The Leica D510 is a high-quality, precise and easy to use outdoor distance measurement tool. The Digital Point Finder with a 4x zoom camera allows targeting and measuring at great distances, even when you cannot see the laser dot. The 360° tilt sensor can measure both angles and distances and can be used with the Point Finder to provide indirect measurements.

The Disto D510 is also durable and ideal for all working environments and weather conditions. It is protected to IP65 rating and is protected against water and also dust proof, making it easy to clean.

The Disto D510 is Bluetooth® Smart Ready so it easily transfers measuring information to other devices such as the iPad and iPhone simply and can be used with the FREE Leica Disto Sketch app (available from iTunes). Easily draw sketches and assign measuring results. Use the app to edit or overwrite photographs and draw ground plans or tables.

The Leica Disto D510 is also available as a Pro Pack (RS Stock no: 126-0960 )
• The Pro Pack includes:
• The D510 laser distance meter,
• FTA 360 Tripod Adapter
• The TRI 70 tripod for outdoor use
• Hard Case

This package combines rugged capabilities of the D510 with high precision from the fine tune tripod adapter.
Features & Benefits
• Easy to use
• 200 m Range
• Intuitive user interface
• Bluetooth® Smart Ready
• Communicates with Apple iPad, iPhone
• Free App – Leica DISTO™ sketch
• Point Finder with 4x zoom
• Protected to IP65 – water jet protection and dust tight robust for all working environments
• 360° tilt sensor
• Smart Horizontal Mode™
• Height tracking
Brand: Leica
Identifier: D510_KIT
Sorry! There are currently no reviews for this product.
Thank you! Your review has been submitted for approval.
Item Details
Brand new packaged items only.
Comes with a full manufacturer warranty (not including consumable products).
Please make use of any product reviews or youtube clips we have available to learn more about the item.
This item is usually delivered within 1 working day(s).
Website Details
SSL Certified Secure website to ensure secure online ordering.
Please return the item/s if not suitable for a full refund (within 7 working days of receipt).
We guarantee security of all your personal details, we do not pass on any customer information.
Accept all payment methods including all major Credit Cards, Paypal and Amazon Payments.
---
Ordering
Order online now using our Secure SSL Certified Secure website.
Add this product to your basket and come back at any time to complete the order.
Order by phone on 01737783101.
Order with an official purchase order by fax to 01737783102 OR by email to sales@sitebox.ltd.uk. We will check your account status or if you do not hold an account we will credit check your organisation, confirm and process your order. Please note the first order(s) will always need to be paid upfront unless you are a government linked organisation. Goods remain the property of Sitebox Ltd until paid for in full as per our full terms and conditions.
Reviews

Excellent would recommend...
Steven Thorpe on 26th Jun 2019

as described, on time, reasonable value....
David Myers on 26th Jun 2019

Great quick service with excellent pricing...
customer on 26th Jun 2019