2863 reviews
UK Sales 01737 783 101
sales@sitebox.ltd.uk
We offer FREE UK Mainland delivery for orders over £50 (ex VAT exclusions apply)
Lumer LED AFrame 2ft Task Light inc Power Take Off Sockets 110v - Code LM05460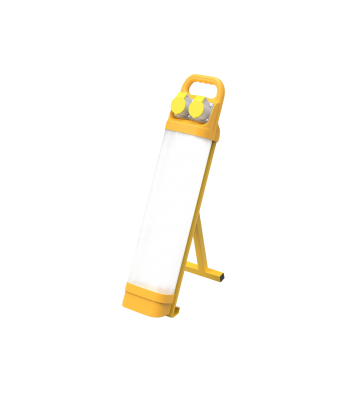 Product ID: LM05460
Please use this reference number at any time when dealing with us so that we can identify the product you are looking at as quickly as possible.
(Please note this reference number will not be of any use to any other party except us.)
Manufacturer: Lumer
Price: £58.32 (£69.98 inc VAT)
190 people have bought this item!
Error! Sorry there has been a problem adding your items to the cart.
Lumer LED AFrame 2ft Task Light inc Power Take Off Sockets 110v - Code LM05460
110v 30 Watts Portable Anti-Corrosive LED Task Light includes Power Take off Sockets.
Fitted with an LED in-tray array producing 30 watts of LED light, 2640 Lumens and a 50,000 hours lifetime.
The fitting is IP65 rated and has a polycarbonate diffuser, the fitting has 5mtr's of cable and is fitted with an IP44 16amp 110volt plug.
Positioned on a folding "A" frame and complete with 2 power take off sockets for linking the lights together.
Specification
Voltage: 110V
Socket output: 2 X 16a
Guarantee: 1 year
IP Rating: IP44
Weight 1.6 Kg
Extra Info: 5 metre cable
PC Diffuser + ABS Base
SMD2835 LED
Working temp: -20℃ to 45℃
2.5m H05VV-F 3G1.5mm Cable
110v 16a CEE Plug + Sockets
Brand: Lumer
Identifier: LM05460
---
"Lumer LED AFrame 2ft Task Light inc Power Take Off Sockets 110v - Code LM05460" By Bill on Thu 15th November 2018

5/5
Happy with the quality of lights and level of service
---
"Lumer LED AFrame 2ft Task Light inc Power Take Off Sockets 110v - Code LM05460" By PRS on Tue 27th September 2016

5/5
very helpful will be using Sitebox again.
---
"Lumer LED AFrame 2ft Task Light inc Power Take Off Sockets 110v - Code LM05460" By Mary on Thu 8th September 2016

5/5
Order placed Friday, delivered Monday at a price lower than other tool sites
---
Thank you! Your review has been submitted for approval.
Item Details
Brand new packaged items only.
Comes with a full manufacturer warranty (not including consumable products).
Please make use of any product reviews or youtube clips we have available to learn more about the item.
This item is usually delivered within 1 working day(s).
Website Details
SSL Certified Secure website to ensure secure online ordering.
Please return the item/s if not suitable for a full refund (within 7 working days of receipt).
We guarantee security of all your personal details, we do not pass on any customer information.
Accept all payment methods including all major Credit Cards, Paypal and Amazon Payments.
---
Ordering
Order online now using our Secure SSL Certified Secure website.
Add this product to your basket and come back at any time to complete the order.
Order by phone on 01737783101.
Order with an official purchase order by fax to 01737783102 OR by email to sales@sitebox.ltd.uk. We will check your account status or if you do not hold an account we will credit check your organisation, confirm and process your order. Please note the first order(s) will always need to be paid upfront unless you are a government linked organisation. Goods remain the property of Sitebox Ltd until paid for in full as per our full terms and conditions.
Reviews

Simple Transaction, Competitive Price Next day delivery Thats about as much as you can ask...
David Treharne Closewall Ltd on 16th Nov 2018

excellent service, and very reasonable prices, including shipping. Ordered Tuesday morning, they ema...
Mitch Earl on 15th Nov 2018

Fast efficient prompt delivery ,good price for product .The product was good quality as expected...
john on 15th Nov 2018