Everbuild Brush Cleaner - 500ml - Box Of 12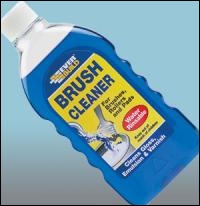 Product ID: eb_BRUSHCL
Please use this reference number at any time when dealing with us so that we can identify the product you are looking at as quickly as possible.
(Please note this reference number will not be of any use to any other party except us.)
Manufacturer: Everbuild
Price: £25.20 (£30.24 inc VAT)
Error! Sorry there has been a problem adding your items to the cart.
BRUSH CLEANER
Pack Size: 500ML
Box Quantity: 12
A thin solvent based liquid which removes wet paint quickly from brushes, rollers and pads. Works on emulsion spirit based paints, varnish and is water washable. Contains conditioner to prolong brush/roller life.
Sorry! There are currently no reviews for this product.
Thank you! Your review has been submitted for approval.
I have given sitebox 5 stars because I would highly recommend it, the website is very user friendly,...
Katy Houghton on 2. Sep
Great website with a vast choice of products, very competitive prices and everything we've ever orde...
Steve Williams on 2. Sep
Great service...easy to use. What more can I say...!!...
Douglas on 1. Sep