JSP Powercap Lite Respirator (8 Hour Battery)
This is now a "Discontinued Product"
Please see replacement by following the button below.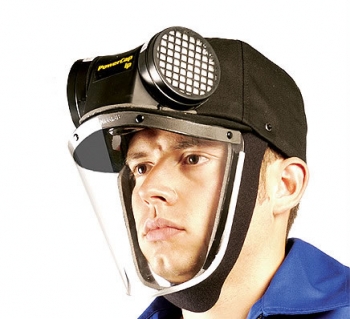 Product ID: JSP_PC1LITE
Please use this reference number at any time when dealing with us so that we can identify the product you are looking at as quickly as possible.
(Please note this reference number will not be of any use to any other party except us.)
Related Products: See all related products
Manufacturer: JSP
Warranty: Click here for info
1 year warranty on Powercaps and Jetstreams only.
Price: £187.99 (£225.59 inc VAT)
Error! Sorry there has been a problem adding your items to the cart.
JSP Powercap Lite Respirator (8 Hour Battery)
JSP Powercap Lite Respirator is powered by an 8 hour rechargeable battery and provides respiratory, head and eye protection.
The JSP Panorama Lite Powercap is ideal when respiratory protection is needed for long periods.
Protects to EN12941
A stream of cooling filtered clean air streams over the face - no breathing resistance.
8 hour rechargeable batteries.
Polycarbonate impact visor
Typical applications include agriculture, allergy relief, food processing, woodworking and light industrial use where FFP2 levels of protection are required.
Weight of head unit: 0.44Kg
Inclusive Equipment: Powercap Unit, Charger, Flow Meter, Power Unit, Resealable Poly Box, TH1P Filters, Visor
Sorry! There are currently no reviews for this product.
Thank you! Your review has been submitted for approval.
I decided to buy the saw and a few clicks later I was finished and the goods arrived the next day. w...
David on 24. Oct
Can't recommend them more so helpfull aaa!...
NEIL o'connor on 28. Oct
Ordering is a painless, friendly experience and the delivery lead time is really good. I've only pla...
Brett at Atelier Developements Ltd on 21. Oct