Clarke PRO179 - 45pce Long Reach Screwdriver and Socket Set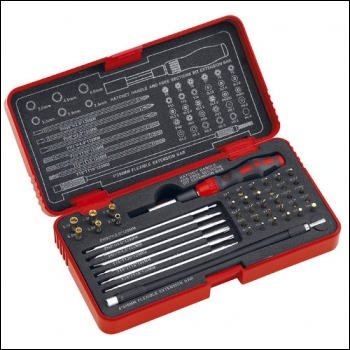 Product ID: clarke_1700579
Please use this reference number at any time when dealing with us so that we can identify the product you are looking at as quickly as possible.
(Please note this reference number will not be of any use to any other party except us.)
Related Products: See all related products
Manufacturer: Clarke
Warranty: Click here for info
List Price: £39.95 (£47.94 inc VAT)
Web Price: £34.61 (£41.53 inc VAT)
Error! Sorry there has been a problem adding your items to the cart.
PRO179 - 45pce Long Reach Screwdriver and Socket Set
With a vast range of bit types and sizes, this set will prove an invaluable addition to your tool kit. The ratchet handle has a 3 position mechanism so you can change the direction of the ratchet while still applying pressure to the screw or bit. Also included is a 200mm flexible extension bar for reaching into almost impossible spaces.
Set contains: Ratchet Handle with Extension Bar, 200mm Flexible Extension Bar,
6 x 120mm Extension Bars:(PH00* & Ө 2.0*), (PH0* & Ө 3.0*), (PH1* & Ө 4.0*), (TT5* & TT20*), (TT6* & TT15*), (TT8* & TT10*)
3 x 160mm Extension Bars: (T10 & T15), (T20 & T25), (T27 & T30); 6 x Hex Sockets (2.5, 3, 3.5, 4, 4.5, & 5mm)
9 x Chrome Vanadium Hex Sockets (5, 6, 7, 8, 9, 10, 11, 12 & 13mm)
9 x Trx Bits (4, 5, 6, 7, 8, 9, 10, 15, & 20); 7 x Slot Bits (1, 1.5, 2, 2.5, 3, 3.5, & 4)
6 x Phillips Bits (PH000, PH00, PH0, PH1, PZ0, PZ1)
8 x Hex Bits (H 0.7, H 0.9, H 0.7, H 1.3, H 1.5, H 2.0, H 2.5, H 3.0 & H 4.0mm)
Model No: PRO179
Part No: 1700579
Sorry! There are currently no reviews for this product.
Thank you! Your review has been submitted for approval.
I decided to buy the saw and a few clicks later I was finished and the goods arrived the next day. w...
David on 24. Oct
Can't recommend them more so helpfull aaa!...
NEIL o'connor on 28. Oct
Ordering is a painless, friendly experience and the delivery lead time is really good. I've only pla...
Brett at Atelier Developements Ltd on 21. Oct