Evolution 400W Multipurpose File Sander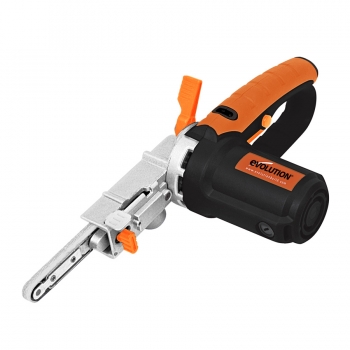 Product ID: evo_400w
Please use this reference number at any time when dealing with us so that we can identify the product you are looking at as quickly as possible.
(Please note this reference number will not be of any use to any other party except us.)
Manufacturer: Evolution Power Tools
Warranty: Click here for info
EDK Power Tools come with a 12 month warranty from date of purchase.
Proof of purchase needs to be provided for the warranty to be valid.
Price: £48.99 (£58.79 inc VAT)
Error! Sorry there has been a problem adding your items to the cart.
Evolution 400W Multipurpose File Sander
Versatile, powerful and compact tool; ideal for sanding, filing, as well as sharpening tools and blades. Perfect for use in tight gaps, such as cleaning out door locks - plus handy at removing rust and excess weld.
Features adjustable sanding arm allowing the operator to keep their hand/wrist in a comfortable position and instead alter the angle of the sanding arm to suit the job.
Variable speed control (300 - 1700rpm) provides optimum control and finishing on a number of surfaces and materials, including wood, metal, plastic, ceramics and masonry.
Two sanding belts are included, ideal for wood, metal and plastics. The coarser paper grade removes the unwanted material faster and with less effort.
Specifications:
Voltage: 230V
Input Power: 400W
Output Power: 400W
Belt Size: 13 x 457mm
Belt Speed (No Load): 300 - 1700min
-1
Weight: 2.180kg
Product Width: 170mm
Product Length: 400mm
Product Height: 105mm
Features:
Soft-Grip Handle: Rubber Coated Grip
Fan-cooled Motor: Fan-cooled Motor
Dust Extraction Facility: Dust Bag
Switch Operating: Trigger Switch
Dust Resistance: Dust Sealed Bearing
Standard Equipment:
Supplied With Machine: Dust Bag,
Single Wheeled Head,
Twin Wheeled Head,
Sanding Belt x
Sorry! There are currently no reviews for this product.
Thank you! Your review has been submitted for approval.
I decided to buy the saw and a few clicks later I was finished and the goods arrived the next day. w...
David on 24. Oct
Can't recommend them more so helpfull aaa!...
NEIL o'connor on 28. Oct
Ordering is a painless, friendly experience and the delivery lead time is really good. I've only pla...
Brett at Atelier Developements Ltd on 21. Oct