3284 reviews
UK Sales 01737 783 101
sales@sitebox.ltd.uk
We offer FREE UK Mainland delivery for orders over £50 (ex VAT exclusions apply)
Baton Long Shackle 6020-45 Series High Security Padlocks, 45mm x 50mm Shackle (6 per Box)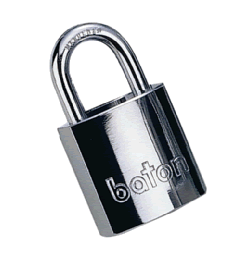 Product ID: 6020_45
Please use this reference number at any time when dealing with us so that we can identify the product you are looking at as quickly as possible.
(Please note this reference number will not be of any use to any other party except us.)
Manufacturer: Baton Padlock
Price: £122.52 (£147.02 inc VAT)
Error! Sorry there has been a problem adding your items to the cart.
Baton Long Shackle 6020-45 Series High Security Padlocks, 45mm x 50mm Shackle (6 per Box)
6020 Series Maxi-Security Brass Long Shackle Padlocks
Features our virtually pick proof detainer disc system
Multiple semi restricted and restricted keyways available, offering over 1 trillion key combinations
Chrome plated solid brass body
Hardened steel shackle
Double ball bearing locking mechanism
Key removable only in the locked position
Specifications:
Padlock: 45mm
Shackle Diameter: 9mm
Shackle Clearance: 50mm
Keyed different
Keyed alike do not come with keys and are an extra £2.20 per key (please allow 7-10 working days for keyed alike)
Price Is For 6 Padlocks
Brand: Baton Padlock
Identifier: 6020_45
Sorry! There are currently no reviews for this product.
Thank you! Your review has been submitted for approval.
Item Details
Brand new packaged items only.
Comes with a full manufacturer warranty (not including consumable products).
Please make use of any product reviews or youtube clips we have available to learn more about the item.
This item is usually delivered within 2 working day(s).
Website Details
SSL Certified Secure website to ensure secure online ordering.
Please return the item/s if not suitable for a full refund (within 7 working days of receipt).
We guarantee security of all your personal details, we do not pass on any customer information.
Accept all payment methods including all major Credit Cards, Paypal and Amazon Payments.
---
Ordering
Order online now using our Secure SSL Certified Secure website.
Add this product to your basket and come back at any time to complete the order.
Order by phone on 01737783101.
Order with an official purchase order by fax to 01737783102 OR by email to sales@sitebox.ltd.uk. We will check your account status or if you do not hold an account we will credit check your organisation, confirm and process your order. Please note the first order(s) will always need to be paid upfront unless you are a government linked organisation. Goods remain the property of Sitebox Ltd until paid for in full as per our full terms and conditions.
Keyed Style
Option
Price Difference
Keyed Different
none
Keyed Alike
+£

52.80
Reviews

Great price, great service...
RC on 24th May 2019

Easy to order, easy to pay and delivered in a couple of days to the site of my choice....
Minster Handling Systems Limited on 24th May 2019

I would definitely recommend them great service...
Gary Heffernan on 24th May 2019