3284 reviews
UK Sales 01737 783 101
sales@sitebox.ltd.uk
We offer FREE UK Mainland delivery for orders over £50 (ex VAT exclusions apply)
BoSS Zone 1 Single Width Fibreglass (GRP) Tower - 1.8m Length - 8.2m Working Height - 385009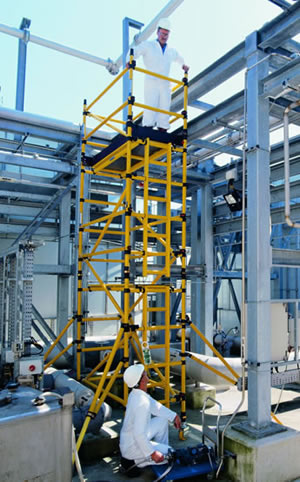 Authorised Distributor
Product ID: YNG_385009
Please use this reference number at any time when dealing with us so that we can identify the product you are looking at as quickly as possible.
(Please note this reference number will not be of any use to any other party except us.)
Related Products: See all related products
Manufacturer: BoSS
Price: £3,699.14 (£4,438.97 inc VAT)
Error! Sorry there has been a problem adding your items to the cart.
BoSS Zone 1 Single Width Fibreglass (GRP) Tower - 1.8m Length - 8.2m Working Height
Boss Zone 1 is available in 1450mm and 850mm ladder spans and is made from Glass Reinforced Plastic (GRP), also known as fibreglass
It won't spark or conduct electricity and combines strength, durability and ease of use
Zone 1 rated - universally safe to use
Tough, durable, high strength material - long lasting with enhanced appearance
Impact resistant fittings - reduced damage and down time
Clean to use and comfortable to handle in extreme temperatures - efficient handling
Colour coded components - easy identification and inventory control
Nylon spigots - prevents frames from jamming and reduce damage
No scrap value - increased security on site
Highly visible colour - increased safety on site
Specifications:
Working Height ... 8.2m
Platform Height ... 6.2m
Width ... 0.85m
Length ... 1.8m
Weight ... 236.9Kgs
| | |
| --- | --- |
| Tower Includes |   |
| Castors | 4 |
| Adjustable Legs | 4 |
| 2 Rung Span Frame | 2 |
| 3 Rung Ladder Frame | - |
| 3 Rung Span Frame | - |
| 4 Rung Ladder Frame | 3 |
| 4 Rung Span Frame | 3 |
| Hatch Platform | 3 |
| Horizontal Brace | 14 |
| Diagonal Brace | 11 |
| End Toeboard | 2 |
| Side Toeboard | 2 |
| Standard Stabiliser | - |
| Large Stabiliser | 4 |
PLEASE NOTE THAT DUE TO THE HEAVY AND BULKY NATURE OF THESE ITEMS AN EXTRA CARRIAGE CHARGE MAY BE APPLICABLE FOR CERTAIN DELIVERY ZONES!

Brand: BoSS
Identifier: YNG_385009
Sorry! There are currently no reviews for this product.
Thank you! Your review has been submitted for approval.
Item Details
Brand new packaged items only.
Comes with a full manufacturer warranty (not including consumable products).
Please make use of any product reviews or youtube clips we have available to learn more about the item.
This item is usually delivered within 5 working day(s).
Website Details
SSL Certified Secure website to ensure secure online ordering.
Please return the item/s if not suitable for a full refund (within 7 working days of receipt).
We guarantee security of all your personal details, we do not pass on any customer information.
Accept all payment methods including all major Credit Cards, Paypal and Amazon Payments.
---
Ordering
Order online now using our Secure SSL Certified Secure website.
Add this product to your basket and come back at any time to complete the order.
Order by phone on 01737783101.
Order with an official purchase order by fax to 01737783102 OR by email to sales@sitebox.ltd.uk. We will check your account status or if you do not hold an account we will credit check your organisation, confirm and process your order. Please note the first order(s) will always need to be paid upfront unless you are a government linked organisation. Goods remain the property of Sitebox Ltd until paid for in full as per our full terms and conditions.
Reviews

Great price, great service...
RC on 24th May 2019

Easy to order, easy to pay and delivered in a couple of days to the site of my choice....
Minster Handling Systems Limited on 24th May 2019

I would definitely recommend them great service...
Gary Heffernan on 24th May 2019