3421 reviews
UK Sales 01737 783 101
sales@sitebox.ltd.uk
We offer FREE UK Mainland delivery for orders over £50 (ex VAT exclusions apply)
Everbuild 405 Path & Patio Seal - Clear - 5l - Box Of 4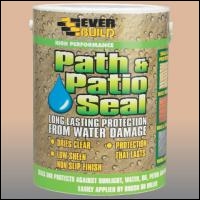 Authorised Distributor

Product ID: eb_PAT5
Please use this reference number at any time when dealing with us so that we can identify the product you are looking at as quickly as possible.
(Please note this reference number will not be of any use to any other party except us.)
Related Products: See all related products
Manufacturer: Everbuild
Price: £49.95 (£59.94 inc VAT)
5 people have bought this item!
Error! Sorry there has been a problem adding your items to the cart.
EVERBUILD 405 PATH & PATIO SEAL
Colour: CLEAR
Pack Size: 5L
Box Quantity: 4
Path & Patio Seal is a solvent free acrylic coating used to seal and protect patios, paths, natural stone, concrete and block paving from the effects of sunlight, water, oil, petrol and fungal/moss growth. The milky solution dries to a clear hard-wearing, water repellent film giving a low sheen slip resistant finish.
8
High Water & Rain Resistance.
Exterior use.
Solvent free.
Water Based Product/Water Clean Up.
Contains Anti-Fungal Compound to prevent mould growth in areas of high humidity
Quick curing/drying.
Brand: Everbuild
Identifier: PAT5
Sorry! There are currently no reviews for this product.
Thank you! Your review has been submitted for approval.
Item Details
Brand new packaged items only.
Comes with a full manufacturer warranty (not including consumable products).
Please make use of any product reviews or youtube clips we have available to learn more about the item.
This item is usually delivered within 5 working day(s).
Website Details
SSL Certified Secure website to ensure secure online ordering.
Please return the item/s if not suitable for a full refund (within 7 working days of receipt).
We guarantee security of all your personal details, we do not pass on any customer information.
Accept all payment methods including all major Credit Cards, Paypal and Amazon Payments.
---
Ordering
Order online now using our Secure SSL Certified Secure website.
Add this product to your basket and come back at any time to complete the order.
Order by phone on 01737783101.
Order with an official purchase order by fax to 01737783102 OR by email to sales@sitebox.ltd.uk. We will check your account status or if you do not hold an account we will credit check your organisation, confirm and process your order. Please note the first order(s) will always need to be paid upfront unless you are a government linked organisation. Goods remain the property of Sitebox Ltd until paid for in full as per our full terms and conditions.
Reviews

Really helpful people, items on site when needed, wanted a copy invoice, lady went to endless troubl...
Ann Barnes on 22nd Jul 2019

very happy with purchase. item as described....
Team Valley Tiles D.D. Costello on 22nd Jul 2019

Great thanks...
Geoff Crooke on 21st Jul 2019