2981 reviews
UK Sales 01737 783 101
sales@sitebox.ltd.uk
We offer FREE UK Mainland delivery for orders over £50 (ex VAT exclusions apply)
Everbuild Metolux 2 Part Wood Filler 1.4kg (white)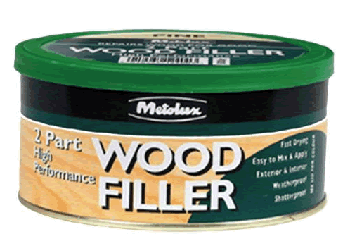 Authorised Distributor

Product ID: 2_PART_FILLER
Please use this reference number at any time when dealing with us so that we can identify the product you are looking at as quickly as possible.
(Please note this reference number will not be of any use to any other party except us.)
Barcode: 5029347000882
Related Products: See all related products
Manufacturer: Everbuild
Price: £16.95 (£20.34 inc VAT)
23 people have bought this item!
Error! Sorry there has been a problem adding your items to the cart.
Everbuild Metolux 2 Part Wood Filler 1.4Kg (White)
Everbuild 2 Part Wood Filler is an all purpose two component polyester wood filler that provides a tough long lasting repair to all woods even in the most demanding situations
Once mixed, the filler sets rock hard to a shatterproof finish in 30 minutes (at any depth) and can be stained painted, varnished or dyed, even with microporous stains
The filler has exceptional strength and flexibility and may be drilled, nailed, planed or carved once dry
The system is totally waterproof and hence is suitable for exterior as well as interior applications
2-Part system - durable, long lasting and shatterproof
Can be stained, painted, varnished or dyed
Chemical cure product - sets in 30 minutes to any depth
Sandable in 30 minutes
Can be drilled, nailed, planed and carved when dry
Flexes with the natural movement of the wood
Areas For Use:
General wood filling in windowsills and frames, doors and door frames, banisters, MDF, laminates etc.
Repair of corner pieces in furniture
Repair of wooden constructions, marine applications etc.
Repairing chips and damage in parquet and laminate floors

Note: This Product Is Only Available In WHITE
Brand: Everbuild
Identifier: 2 PART FILLER
Sitebox Ltd - Celebrating 10 Years of being an Everbuild Stockist!
Sitebox Ltd has been an Everbuild stockist since 2003 stocking a wide range of Everbuild products and supplying them to builders, DIYers, dryliners, plasterers, electricians, roofers and general fitout companies.
Everbuild have introduced many innovative products since their inception in the 1990's such as pinkgrip, stixall, forever white, one strike, cemstrip, everflex, feb and aquaseal and are constantly bringing out new product lines year or year such as all new Everbuild Weatherproof Adhesive, Everbuild Clear Fix, Everbuild Self Level Flexiplus, Geofix All Weather Jointing Compound, Everbuild Tarmac Restorer, Hardwood Furniture Oil plus many more. In addition, Everbuild in recent years have introduced a range in tapes, trims, packaging, glue guns and other building and plumbing products.
The majority of Everbuild products are actually manufactured in house in the UK and 99% of all the product lines are stocked in the UK too. More importantly in the ever changing world of Health and Safety legislation and demanding site accreditations Everbuild adher fully to an ISO 9001 quality system accredited by the British Standards Institute to CE approved admixtures, comprehensive fire, acoustic and thermal tests through to the environmental standard ISO 14001. Everbuild gives you the assurance of dealing with a company that is setting industry leading standards in product testing and compliances.
Here at Sitebox, although we are a large Everbuild distributor we realize it is impossible to stock all of Everbuild's 2500 product lines, so for the items we do not stock we label 3 to 5 working days from date of order on our website. However, we do stock many Everbuild items too such as firemate, instant nails, ac95 sealant, both sizes of heat resistant plaster and both sizes of heat resistant screed, both mirrormate and leadmate sealants, febflor, febgrout, pinkgrip both the sealant and the adhesive versions, painters caulk, general purpose silicone, expanding foam, wonder wipes, pva bond, weathermate, 4 different types of roll and stroll, bath silicone, stixall and stick 2 adhesive too name but a few. Generally we get all these products out on a next working day delivery. For popular Everbuild products that we stock please see below this article.
There are also many different brands that come under the Everbuild banner such as Purimachos, Geofix, Mammoth, Feb, Aquaseal, Roll & Stroll and Tecnic. Feb are best known for Concrete and Mortar Admixtures and the brand has been around for some 50 years. Today the FEB range encompasses the latest in Admixture technology, Structural Waterproofing, Bonding Agents, Concrete Repair, Cementitious Grouts, Adhesives and Screeds, Surface Protectors and Remedial Waterproofing, with formulations continually tested and improved to meet the latest regulatory standards. Tecnic is the division of Everbuild Building Products which is mainly targeted at the specifier & construction markets. The Tecnic range has a range of sealants & adhesives for all your application needs and have been used on many large scale projects and developments and the range contains a diverse selection of construction industry products that have wide application possibilities. In 2008, Everbuild took over GEO-FIX, who are the market leader for Paving Jointing Compound. Geo-Fix Paving Jointing Compound is beneficial of use over cement based mortars as it is easy to point up, there are no cement stains either and also it wont crack or wash out as it is set hard.
To see some of the Everbuild products in action please check out some of the Youtube videos below:
---
---
"Everbuild Metolux 2 Part Wood Filler 1.4kg (white)" By Geoff Wakefield on Tue 14th February 2017

1/5
Good colour range But why is this stuff So hard to rub down Other people in ghr trade prefer the cuprinol version Only because it's easy to sand off, Whole point of filler Is it needs sanding So please help us And make it easy !!
---
Thank you! Your review has been submitted for approval.
Item Details
Brand new packaged items only.
Comes with a full manufacturer warranty (not including consumable products).
Please make use of any product reviews or youtube clips we have available to learn more about the item.
Website Details
SSL Certified Secure website to ensure secure online ordering.
Please return the item/s if not suitable for a full refund (within 7 working days of receipt).
We guarantee security of all your personal details, we do not pass on any customer information.
Accept all payment methods including all major Credit Cards, Paypal and Amazon Payments.
---
Ordering
Order online now using our Secure SSL Certified Secure website.
Add this product to your basket and come back at any time to complete the order.
Order by phone on 01737783101.
Order with an official purchase order by fax to 01737783102 OR by email to sales@sitebox.ltd.uk. We will check your account status or if you do not hold an account we will credit check your organisation, confirm and process your order. Please note the first order(s) will always need to be paid upfront unless you are a government linked organisation. Goods remain the property of Sitebox Ltd until paid for in full as per our full terms and conditions.
Reviews

Have a good range of products competitavely priced. Good delivery record...
Graham Rideal on 20th Jan 2019

good product, good service...
Mr Howarth on 20th Jan 2019

Great product, very good service...
Ste on 18th Jan 2019