3131 reviews
UK Sales 01737 783 101
sales@sitebox.ltd.uk
We offer FREE UK Mainland delivery for orders over £50 (ex VAT exclusions apply)
Feb Deco Caulk Acrylic Decorators Filler & Sealant (per 25 box)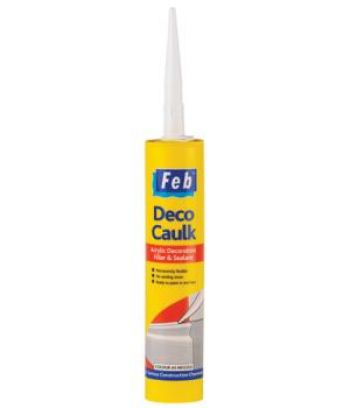 Product ID: FBCAULKWE
Please use this reference number at any time when dealing with us so that we can identify the product you are looking at as quickly as possible.
(Please note this reference number will not be of any use to any other party except us.)
Related Products: See all related products
Manufacturer: Feb
Price: £36.00 (£43.20 inc VAT)
Error! Sorry there has been a problem adding your items to the cart.
Feb Deco Caulk Acrylic Decorators Filler & Sealant (per 25 box)
Acrylic Decorators Filler & Sealant
Permanently flexible
No sanding down
Ready to paint in one hour
| Colour | Product Code | Pack Size | Box Qty |
| --- | --- | --- | --- |
| White | FBCAULKWE | C3 | 25 |
Brand: Feb
Identifier: FBCAULKWE
The Feb Range
The Serious Brand
As the originators of Concrete and Mortar Admixtures with a history going back over 50 years, generations of Builders and Specifiers have grown up trusting the FEB brand to meet their most exacting requirements when it comes to selecting high performance construction chemicals.
View our construction chemicals category
Serious About Products
Today the FEB range encompasses the latest in Admixture technology, Structural Waterproofing, Bonding Agents, Concrete Repair, Cementitious Grouts, Adhesives and Screeds, Surface Protectors and Remedial Waterproofing, with formulations continually tested and improved to meet the latest regulatory standards.
Serious About Service
Now part of Everbuild Building Products Ltd, the FEB range is entirely produced in the UK to a stringent Quality Control system accredited to ISO9001. With state of the art manufacturing facilities able to cope with high volume demand comes a commitment to be in stock of 99% of all lines, ready to go on a wagon the day it's ordered.
In house distribution driven by sophisticated electronic stock rotation and order collation ensures speed is combined with accuracy.
Serious About Continuity
When you stock, use or specify FEB branded construction chemicals you have the reassurance you are buying into a long history of quality, with formulations that have remained fundamentally unchanged apart from technical improvements. Importantly, key product formulations such as Febmix, Febproof, Febond, Febsilicon, Aquaseal and many more have been retained by Everbuild so regular users of these products will notice no difference at all to the products they have been using for many years.
Serious - In Store
With the acquisition of the FEB and AQUASEAL brands by Everbuild, the entire range has been updated to give clear and concise product details whilst retaining the all important historic FEB logo and core product names.
Serious - On Site!
Over the years FEB products have been used on countless landmark projects, from providing Admixtures for the concrete used to construct the last Mersey Tunnel in 1971, through to the recent completion of Wembley Stadium. Successful use and specification is backed up by on site technical training and assistance with knowledgeable technicians available to all FEB customers.
Serious Range - Buy Now !
---
Sorry! There are currently no reviews for this product.
Thank you! Your review has been submitted for approval.
Item Details
Brand new packaged items only.
Comes with a full manufacturer warranty (not including consumable products).
Please make use of any product reviews or youtube clips we have available to learn more about the item.
This item is usually delivered within 5 working day(s).
Website Details
SSL Certified Secure website to ensure secure online ordering.
Please return the item/s if not suitable for a full refund (within 7 working days of receipt).
We guarantee security of all your personal details, we do not pass on any customer information.
Accept all payment methods including all major Credit Cards, Paypal and Amazon Payments.
---
Ordering
Order online now using our Secure SSL Certified Secure website.
Add this product to your basket and come back at any time to complete the order.
Order by phone on 01737783101.
Order with an official purchase order by fax to 01737783102 OR by email to sales@sitebox.ltd.uk. We will check your account status or if you do not hold an account we will credit check your organisation, confirm and process your order. Please note the first order(s) will always need to be paid upfront unless you are a government linked organisation. Goods remain the property of Sitebox Ltd until paid for in full as per our full terms and conditions.
Reviews

Excellent, fast service and good communications....
Julie Haddow on 23rd Mar 2019

This review was requested 5 hours after delivery so the customer is assuming such a short request fo...
Barrie on 23rd Mar 2019

Great product, competitive price and good delivery. Excellent thank you....
Stephen on 22nd Mar 2019