2525 reviews
UK Sales 01737 783 101
sales@sitebox.ltd.uk
We offer FREE UK Mainland delivery for orders over £50 (ex VAT exclusions apply)
Husqvarna K760 300mm Oil Guard Petrol Powered Power Cutter - Code 967350801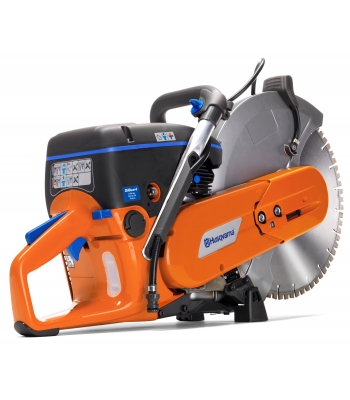 Product ID: husq_k760_300mm_oilguard
Please use this reference number at any time when dealing with us so that we can identify the product you are looking at as quickly as possible.
(Please note this reference number will not be of any use to any other party except us.)
Related Products: See all related products
Manufacturer: Husqvarna
Price: £657.99 (£789.59 inc VAT)
Error! Sorry there has been a problem adding your items to the cart.
Husqvarna K760 300mm Oil Guard Petrol Powered Power Cutter - Code 967350801
The Husqvarna K 760 Oilguard is specially designed to prevent engine damage resulting from an incorrect oil-fuel mixture. The K 760 Oilguard uses specially colored OilGuard oil, developed specifically for dusty environments like construction sites and ideal for air-cooled two-stroke engines. It is also possible to use standard two-stroke oil in a K 760 Oilguard, as the OilGuard feature can easily be deactivated. An optical detection system indicates if there is a sufficient amount of the correct type of oil in the fuel. The K 760 Oilguard also has features like the new generation of Active Air Filtration™, one of the market's most efficient centrifugal air cleaning systems that delivers up to one year's operation without a filter change and SmartCarb™, built-in automatic filter compensation and a highly efficient vibration dampening system. It is also outfitted with an X-Torq®engine, which reduces emissions up to 75 % and lowers fuel consumption by 20 % and DuraStarter™, a dust-sealed starter that boosts reliability and product life. Air Purge and a decompression valve make it very easy to start.

Active Air Filtration™
The new Active Air Filtration™ is one of the most efficient air filtration systems on the market, delivering operational times (dry cutting) of about one year, with no filter service required.

X-Torq®
Engine with X-Torq® produces 75 % less emissions, 20 % lower fuel consumption and more power.

OilGuard
OilGuard is a quality oil developed specifically for dusty environments like construction sites and is ideal for all air-cooled two-stroke engines.

Optical detection system
The optical detection system detects if there is oil in the fuel or if the oiltype is wrong.
Technical Data
* Patented, dust sealed starter unit, where the return spring and the pulley bearing are sealed. DuraStarter™ also includes a starter cord with greatly increased durability. This makes the starter virtually maintenance free, giving a further boost to the reliability of our cutters.
* SmartCarb, a built-in automatic filter compensation, maintains high power and lowers fuel consumption.
* DEX, the new Dust Extinguisher System that gives cleaner cutting with less water usage and slurry.
* Our anti-vibration system reduces vibrations in the cutter handles, so they are more comfortable to hold and can be used for longer periods. To enable the user a comfortable operating position and to reduce strain, the distance between the handles is large. The handles and the short engine body mean the user always stands close to the machine, for easier handling and control.
* Eliminates engine damage should straight fuel or if an incorrect fuel oil mix is used.
* OilGuard oil is a quality oil developed specifically for dusty environments like construction sites.
* OilGuard oil is ideal for all air-cooled two-stroke engines.
* You can use standard two-stroke oil in a K 760 with OilGuard machine by deactivating the OilGuard function: simply pull out the OilGuard button by the rear handle.
Other Features
Engine
Power output 3.7 kW / 4.96 hp(I)
Cylinder displacement 74 cm³ / 4.52 cu.inch
Cutting equipment
Blade diameter 300/350 mm / 11.81/13.78 "
Max cutting depth 100/125 mm / 3.94/4.92 "
Dimensions
Weight (excl. cutting equipment) 9.7/9.9 kg / 21.38/22.49 lbs
Vibration
Vibrations front handle 3.2/4.6 m/s²
Vibrations rear handle 3/5 m/s²
Sound and noise
Sound level 97 dB(A)
Guaranteed sound power level, LWA 113 dB(A)
Brand: Husqvarna
Identifier: husq_k760_300mm_oilguard
Sorry! There are currently no reviews for this product.
Thank you! Your review has been submitted for approval.
Item Details
Brand new packaged items only.
Comes with a full manufacturer warranty (not including consumable products).
Please make use of any product reviews or youtube clips we have available to learn more about the item.
This item is usually delivered within 3 working day(s).
Website Details
SSL Certified Secure website to ensure secure online ordering.
Please return the item/s if not suitable for a full refund (within 7 working days of receipt).
We guarantee security of all your personal details, we do not pass on any customer information.
Accept all payment methods including all major Credit Cards, Paypal and Amazon Payments.
---
Ordering
Order online now using our Secure SSL Certified Secure website.
Add this product to your basket and come back at any time to complete the order.
Order by phone on 01737783101.
Order with an official purchase order by fax to 01737783102 OR by email to sales@sitebox.ltd.uk. We will check your account status or if you do not hold an account we will credit check your organisation, confirm and process your order. Please note the first order(s) will always need to be paid upfront unless you are a government linked organisation. Goods remain the property of Sitebox Ltd until paid for in full as per our full terms and conditions.
Reviews

Although original order not in stock slightly more expensive product was and was delivered when prom...
IAN ROY HARRIS on 26th May 2018

Good product, decent price and very prompt delivery. What's not to like!...
stewart coverdale on 25th May 2018

Excellent service and a great price, item arrived the next day as promised, I would recommend Sitebo...
Trevor on 25th May 2018