3412 reviews
UK Sales 01737 783 101
sales@sitebox.ltd.uk
We offer FREE UK Mainland delivery for orders over £50 (ex VAT exclusions apply)
Kenwood TK-3501 T Kenwood 446 PORTABLE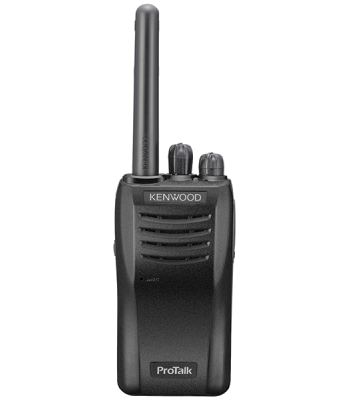 Product ID: ken_tk3501
Please use this reference number at any time when dealing with us so that we can identify the product you are looking at as quickly as possible.
(Please note this reference number will not be of any use to any other party except us.)
Manufacturer: Kenwood
Price: £129.95 (£155.94 inc VAT)
Error! Sorry there has been a problem adding your items to the cart.
Kenwood TK-3501 T Kenwood 446 PORTABLE
The new TK-3501 hand-portable is designed for 'Simplicity', making it the ideal license-free radio for use by everybody, from beginners to experts.
The TK-3501 is the natural successor to the legendary ProTalk TK-3301 and is sure to win a strong base of dedicated users quickly.
Simple and Easy-to-use – No license Required
This license-free two-way radio comes with a 1130mAh Li-Ion rechargeable battery, battery charger and belt clip; there's no need to buy extra accessories for basic operation. It is ready to use right away.
Compact, Reliable and Robust
Users will appreciate just how light (210g) this radio is. Yet, there is no compromise on build integrity; it meets or exceeds the IP54 dust and water intrusion standards as well asMIL-STD 810 C, D, E, F & G environmental standards, making it tough enough for outdoor use in any weather.
Enhanced Audio Quality
The powerful BTL amplifier and large size speaker deliver 1.5 watt audio output, providing clear and crisp audio.
Built-in Self Programming
Users can change several settings, channel frequency, QT tone or DQT code without using FPU.
Extended Talk Range
With the receivers' RX circuit optimised to the fixed antenna, talk range can now extend up to 9km (in open locations).
FEATURES
Successor to the TK-3301T
Operates on the Analogue PMR446 Service
No License Required
User-Programmable Features
Extended Talk Range
Adjustable Microphone Gain
Built-in

VOX
Brand: Kenwood
Identifier: TK-3501
Sorry! There are currently no reviews for this product.
Thank you! Your review has been submitted for approval.
Item Details
Brand new packaged items only.
Comes with a full manufacturer warranty (not including consumable products).
Please make use of any product reviews or youtube clips we have available to learn more about the item.
This item is usually delivered within 1 working day(s).
Website Details
SSL Certified Secure website to ensure secure online ordering.
Please return the item/s if not suitable for a full refund (within 7 working days of receipt).
We guarantee security of all your personal details, we do not pass on any customer information.
Accept all payment methods including all major Credit Cards, Paypal and Amazon Payments.
---
Ordering
Order online now using our Secure SSL Certified Secure website.
Add this product to your basket and come back at any time to complete the order.
Order by phone on 01737783101.
Order with an official purchase order by fax to 01737783102 OR by email to sales@sitebox.ltd.uk. We will check your account status or if you do not hold an account we will credit check your organisation, confirm and process your order. Please note the first order(s) will always need to be paid upfront unless you are a government linked organisation. Goods remain the property of Sitebox Ltd until paid for in full as per our full terms and conditions.
Reviews

Very good to deal with, goods turned up on time...
Aaron Ratcliffe on 15th Jul 2019

Delivered swiftly and was exactly as ordered....
Mike on 14th Jul 2019

Great product and Price...
Trevor Thornett on 12th Jul 2019