3376 reviews
UK Sales 01737 783 101
sales@sitebox.ltd.uk
We offer FREE UK Mainland delivery for orders over £50 (ex VAT exclusions apply)
Leica DISTO D110 Laser Distance Measure 60m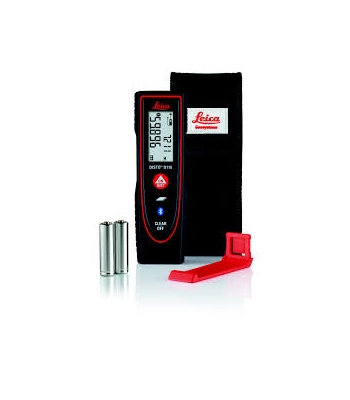 Product ID: LEICA_DISTO_D110
Please use this reference number at any time when dealing with us so that we can identify the product you are looking at as quickly as possible.
(Please note this reference number will not be of any use to any other party except us.)
Barcode: 07640110694947
Related Products: See all related products
Manufacturer: Leica
Warranty: Click here for info
Price: £89.95 (£107.94 inc VAT)
6 people have bought this item!
Error! Sorry there has been a problem adding your items to the cart.
Leica DISTO D110 Laser Distance Measure 60m
Brand new for 2014, the Leica DISTO D110 overtakes the D2 to take the crown as smallest laser measure in the world! Not just a gimmick, its compact dimensions, revolutionary pen-like shape and secure pocket clip have been specifically designed to make the Disto D110 as user-friendly and portable as possible.
Features and benefits
World's smallest laser measure
Guaranteed accuracy to ±1.5mm (ISO-certified)
Removable pocket clip
Quick, simple distance and area measurement
Bluetooth ® Smart technology
IP54 dust and water protection
FREE Leica DISTO Sketch app
60m range (indoors)
Back-lit screen for low light conditions
Measures in both metric and imperial units
3 year, no quibble Leica warranty
The Leica Disto D110 is popular with...
Architects
Estimators
Contractors
Painters and decorators
Joiners
Surveyors
Kitchen fitters
Plumbers
IT and electrical contractors
Estate and letting agents & more
Secure pocket clip
Whilst it may be the cheapest of the Leica DISTO range offering incredible value for money, the D110 is still an investment and one you'll want to keep safe. Now, thanks to the revolutionary new design and removable pocket clip, you can keep it about your person all the time.
Ultra compact dimensions
The Disto D110 is now the World's smallest laser measure fitting easily into a shirt, jacket or trouser pocket. You can now take your Disto everywhere with you - no longer do you need to carry around a large carry bag to get the measurement functionality you need!
Quick, easy area & distance calculation
Never has calculating linear distances and wall/floor areas been so easy. With the Leica DISTO D110 you simply point and click and the measurement is provided - guaranteed to be accurate to ±1.5mm! Leica are the only laser measure manufacturer in the world to test and certify their laser measures to the ISO 16331-1 standard for accuracy of handheld laser measurers. Calculate materials, measure up and price your job with ease!
Bluetooth Smart technology with free DISTO Sketch App
The advanced Bluetooth Smart technology that comes as standard with the Disto D110 allows the user to transfer his/her measurements directly to their smart phone or tablet (see list of compatible devices) and, from there, straight to their computers, offices or homes without ever leaving site! Once connected to their device, users can draw sketches, floor plans and photo-documentation overlaid with with their measurements.
Technical Information
Brand: Leica Geosystems
Accuracy: ± 1.5mm
Name: Leica DISTO D110 Laser Measure
Length (m): N/A (Laser)
Metric Measurements: Yes
Imperial Measurements: Yes
Blade Diameter (mm): N/A
Blade Material: N/A
Case Material: N/A
Hook Type: N/A
No. of Rivets: N/A
Standout (m): N/A
Range (m): 60m
Weight (kg): 1.0000
SKU: D110
Brand: Leica
Identifier: DISTOD110
---
"Leica DISTO D110 Laser Distance Measure 60m" By Garry Mason on Wed 16th January 2019

5/5
Excellent service no problems at all delivered the next day
---
"Leica DISTO D110 Laser Distance Measure 60m" By Lee on Tue 9th August 2016

5/5
excellent service from order to delivery
---
"Leica DISTO D110 Laser Distance Measure 60m" By Kam on Fri 24th June 2016

5/5
Fantastic service, quick delivery and the laser was great too
---
"Leica DISTO D110 Laser Distance Measure 60m" By Joe on Mon 9th May 2016

5/5
very good no problems
---
"Leica DISTO D110 Laser Distance Measure 60m" By Kinga on Thu 15th October 2015

5/5
v good service and price
---
"Leica DISTO D110 Laser Distance Measure 60m" By Michelle on Thu 24th September 2015

5/5
We are an estate agents and this works perfectly for measuring rooms, does a lot for the money it costs
---
Thank you! Your review has been submitted for approval.
Item Details
Brand new packaged items only.
Comes with a full manufacturer warranty (not including consumable products).
Please make use of any product reviews or youtube clips we have available to learn more about the item.
This item is usually delivered within 1 working day(s).
Website Details
SSL Certified Secure website to ensure secure online ordering.
Please return the item/s if not suitable for a full refund (within 7 working days of receipt).
We guarantee security of all your personal details, we do not pass on any customer information.
Accept all payment methods including all major Credit Cards, Paypal and Amazon Payments.
---
Ordering
Order online now using our Secure SSL Certified Secure website.
Add this product to your basket and come back at any time to complete the order.
Order by phone on 01737783101.
Order with an official purchase order by fax to 01737783102 OR by email to sales@sitebox.ltd.uk. We will check your account status or if you do not hold an account we will credit check your organisation, confirm and process your order. Please note the first order(s) will always need to be paid upfront unless you are a government linked organisation. Goods remain the property of Sitebox Ltd until paid for in full as per our full terms and conditions.
Reviews

Excellent would recommend...
Steven Thorpe on 26th Jun 2019

as described, on time, reasonable value....
David Myers on 26th Jun 2019

Great quick service with excellent pricing...
customer on 26th Jun 2019