2014 reviews
UK Sales 01737 783 101
sales@sitebox.ltd.uk
We offer FREE UK Mainland delivery for orders over £50 (ex VAT exclusions apply)
Leica Disto D510 Laser Distance Measure 200m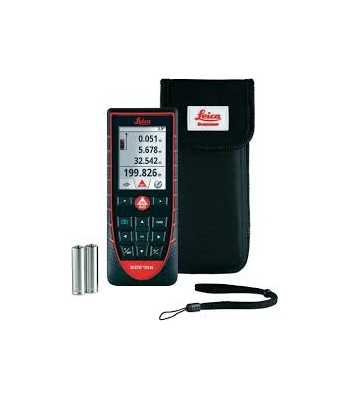 Product ID: LEICA_DISTO_D510
Please use this reference number at any time when dealing with us so that we can identify the product you are looking at as quickly as possible.
(Please note this reference number will not be of any use to any other party except us.)
Barcode: 07640110694237
Related Products: See all related products
Manufacturer: Leica
Warranty: Click here for info
Price: £269.95 (£323.94 inc VAT)
23 people have bought this item!
Error! Sorry there has been a problem adding your items to the cart.
Leica Disto D510 Laser Distance Measure 200m
We are very excited to present the new Leica DISTO™ D510, the world's first ISO 16331-1 certified laser distance meter with digital Pointfinder- ideal for outdoor use on construction sites.
Designed for real job site use, the D510 meets tough IP65 certification - dust and waterproof.

The Leica DISTO™ D510 features Bluetooth Smart 4.0, enabling communication to the latest Apple iPhone and iPad devices. This is a major step in improving the workflow of anyone that needs to document and exchange data wirelessly from the work site to office.

Featured with:



Bluetooth Smart 4.0 (for use with the latest iPhone & iPad's)


4x Digital zoom viewfinder


IP65 water jet protection and dust-tight


2m drop-height rated


360° tilt sensor


Smart Horizontal Mode™


Height tracking


Power Range Technology™


Illuminated 4-line display


Automatic multifunctional end-piece
Brand: Leica
Identifier: DISTO_D510
---
"Leica Disto D510 Laser Distance Measure 200m" By Ed Robertson on Tue 26th September 2017

5/5
Good service and delivered very quickly. Product works very well and is lightweight.
---
"Leica Disto D510 Laser Distance Measure 200m" By graham field on Mon 14th August 2017

5/5
super fast & easy transaction. thanks
---
"Leica Disto D510 Laser Distance Measure 200m" By Kam on Fri 24th June 2016

5/5
Fantastic service, quick delivery and the laser was great too
---
"Leica Disto D510 Laser Distance Measure 200m" By Richard on Wed 4th May 2016

5/5
Ordering was easy - i even spoke to a human using a telephone - which i liked as i'm old school !! Ordered, arrived, used - easy peesey.
---
"Leica Disto D510 Laser Distance Measure 200m" By Julian on Tue 13th October 2015

5/5
Purchased an excellent Leica Laser Distance Measure which arrived by Lunchtime next day. Totally satisfied with the tool and supplier and very competitive price
---
"Leica Disto D510 Laser Distance Measure 200m" By Janey on Tue 29th September 2015

5/5
good price, best online
---
"Leica Disto D510 Laser Distance Measure 200m" By Stuart on Thu 24th September 2015

5/5
Great product, easy to use and very accurate and reliable,
---
Thank you! Your review has been submitted for approval.
Item Details
Brand new packaged items only.
Comes with a full manufacturer warranty (not including consumable products).
Please make use of any product reviews or youtube clips we have available to learn more about the item.
This item is usually delivered within 1 working day(s).
Website Details
SSL Certified Secure website to ensure secure online ordering.
Please return the item/s if not suitable for a full refund (within 7 working days of receipt).
We guarantee security of all your personal details, we do not pass on any customer information.
Accept all payment methods including all major Credit Cards, Paypal and Amazon Payments.
---
Ordering
Order online now using our Secure SSL Certified Secure website.
Add this product to your basket and come back at any time to complete the order.
Order by phone on 01737783101.
Order with an official purchase order by fax to 01737783102 OR by email to sales@sitebox.ltd.uk. We will check your account status or if you do not hold an account we will credit check your organisation, confirm and process your order. Please note the first order(s) will always need to be paid upfront unless you are a government linked organisation. Goods remain the property of Sitebox Ltd until paid for in full as per our full terms and conditions.
Reviews

Excellent service, items arrived next day and work perfectly...
Robert on 19th Oct 2017

great, as deception and excellent delivery services....
Valerie on 19th Oct 2017

Great product range at good prices and delivered as expected...
Adrian Worrall on 18th Oct 2017