3376 reviews
UK Sales 01737 783 101
sales@sitebox.ltd.uk
We offer FREE UK Mainland delivery for orders over £50 (ex VAT exclusions apply)
Leica DISTO X310 Laser Distance Measure 120m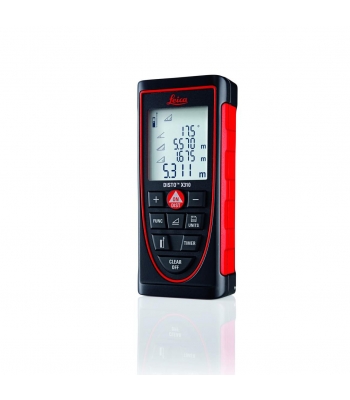 Product ID: LEICA_DISTO_X310
Please use this reference number at any time when dealing with us so that we can identify the product you are looking at as quickly as possible.
(Please note this reference number will not be of any use to any other party except us.)
Barcode: 07640110693261
Related Products: See all related products
Manufacturer: Leica
Warranty: Click here for info
Price: £139.95 (£167.94 inc VAT)
16 people have bought this item!
Error! Sorry there has been a problem adding your items to the cart.
Leica DISTO X310 Laser Distance Measure 120m
The original & most robust Laser Distance meter......
The new Leica DISTO ™ X310 sets a new standard in laser measuring.
A 360 degree angle measure and 1mm accuracy combined with an extremely robust housing which is both waterproof and rugged makes the Leica Disto X310 distance measure a perfect choice for all trades and property related measuring needs.
In addition, to its durability the Leica Disto X310 has a wealth of new measuring functions for material take offs, true horizontal calculations and indirect height measurements.
Features:
Measuring range up to 120 metre; typical accuracy ± 1.0 mm (0.04 in)
Fast and accurate distance measurements on detailed display.
Very rugged construction. (It passes drop tests of up to 2m height)
IP65 water jet protection and dust-tight.
Power Range Technology™
Smart Horizontal Mode™
Measure over long distances without target plate.
Full 360 degree Tilt measurements
Measure angles at the touch of a button.
Indirect measurements with the help of the tilt sensor
Horizontal distances can be measured without problem despite nearby
obstructions.
Flip-out end-piece with automatic detection
Reliable, trouble-free measurement from edges or out of corners
Room calculations
Values like total wall length, wall and ceiling areas are available
at the touch of button.
Room angle calculation
Exact calculation of a room angle from only three measurements.
Technical specification:
Batteries - 2pc x type AAA, 1.5V dc
Weight with batteries: 155g
Dimensions: 122 x 55 x 31mm
Additional functions include:
Tilt measurement
The instrument's inbuilt tilt sensor quickly and simply determines tilts
over full 360°. The tilt sensor can also provide you with true horizontal
distances. Reliable measurements are therefore guaranteed.

Multifunctional end piece
Aim the instrument straight at the target point, whether measuring out of corners, slots or from edges: with this end piece you are prepared for all measuring situations. The instrument detects the end piece automatically,
which helps you avoid expensive measuring errors.

Automatic keypad and display illumination
A built-in sensor detects if the environment is dark and switches on the
illumination of the keypad and display. You can also measure in the dark
without any problem.

Multiple functions
The Leica DISTO™ X310 can also calculate areas, volumes, room
dimensions and various types of Pythagorean functions. A time delay
release and enough memory for up to 20 measurements finish off the
instruments wide range of functions - a concept designed to make
your work easier.
Also included in the kit:
Holster: Stows everything away neatly
Target plate: Allows accurate measurement on a non-reflective surface.
Wrist strap: Secures the instrument at all heights
Kit comprises of:
Leica DISTO™ X310
Holster
AAA Batteries (2pc)
Wrist strap
Target plate
Safety Instructions
User Manual
Quickstart leaflet
Brand: Leica
Identifier: DISTO_X310
---
"Leica DISTO X310 Laser Distance Measure 120m" By Waseem on Wed 16th January 2019

5/5
All systems of service are as it ought to be: online-ontime-goodprice.
---
"Leica DISTO X310 Laser Distance Measure 120m" By Ewan on Mon 4th January 2016

5/5
Good price and next day delivery, what else do you need??
---
"Leica DISTO X310 Laser Distance Measure 120m" By Deacon A on Fri 27th November 2015

5/5
I would say better quality than Bosch ones. I am sure will give many years of use,
---
"Leica DISTO X310 Laser Distance Measure 120m" By Mr K Lynch-Martin on Thu 15th October 2015

5/5
Very competitive price and free delivery which was actually very fast free delivery. No hidden delivery charges like some competitors.
---
"Leica DISTO X310 Laser Distance Measure 120m" By Salim Q on Thu 24th September 2015

5/5
VERY NICE INSTRUMENT. MUCH SMALLER THAN THE COMPETITION WHILST BEING ABLE TO DO ALL THE SAME THINGS, MANY OF THEM TO A BETTER STANDARD!!!
---
Thank you! Your review has been submitted for approval.
Item Details
Brand new packaged items only.
Comes with a full manufacturer warranty (not including consumable products).
Please make use of any product reviews or youtube clips we have available to learn more about the item.
This item is usually delivered within 1 working day(s).
Website Details
SSL Certified Secure website to ensure secure online ordering.
Please return the item/s if not suitable for a full refund (within 7 working days of receipt).
We guarantee security of all your personal details, we do not pass on any customer information.
Accept all payment methods including all major Credit Cards, Paypal and Amazon Payments.
---
Ordering
Order online now using our Secure SSL Certified Secure website.
Add this product to your basket and come back at any time to complete the order.
Order by phone on 01737783101.
Order with an official purchase order by fax to 01737783102 OR by email to sales@sitebox.ltd.uk. We will check your account status or if you do not hold an account we will credit check your organisation, confirm and process your order. Please note the first order(s) will always need to be paid upfront unless you are a government linked organisation. Goods remain the property of Sitebox Ltd until paid for in full as per our full terms and conditions.
Reviews

Excellent would recommend...
Steven Thorpe on 26th Jun 2019

as described, on time, reasonable value....
David Myers on 26th Jun 2019

Great quick service with excellent pricing...
customer on 26th Jun 2019