Milwaukee V28 PD Cordless Percussion Drill (28 Volt)
This is now a "Discontinued Product"
Please see replacement by following the button below.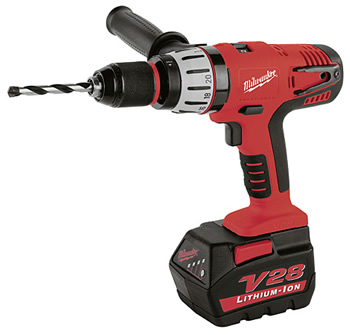 Product ID: 4933390735
Please use this reference number at any time when dealing with us so that we can identify the product you are looking at as quickly as possible.
(Please note this reference number will not be of any use to any other party except us.)
Manufacturer: Milwaukee
Warranty: 3 years
The end user warranty period is 12 months and begins on the date that the unit was purchased. This must be documented by an invoice or other proof of purchase. Products in the hire industry are excluded from this 12 month warranty.
Warranties can be extended on tools purchased from 2008 in the countries listed at http://service.milwaukee-et.com to 3 years provided that the end consumers register their newly acquired tools for the extended warranty online within four weeks of the date of purchase.
A warranty repair is free of charge. It does not constitute an extension or a new start of the warranty period. Exchanged parts become our property. In some countries delivery charges or postage will have to be paid by the sender.
Click here for more information
Price: £455.00 (£546.00 inc VAT)
Error! Sorry there has been a problem adding your items to the cart.
Milwaukee V28 PD Cordless Percussion Drill (28 Volt)
28 Volt Milwaukee High Power Motor, gives corded tool performance
High-quality, large-capacity V28 battery packs with fuel gauge for fade free energy transfer and enhanced performance
FIXTEC and keyless chuck for comfortable, one-handed bit changing
Exclusive Clip-Lok™ System allows for convenient, hands-free, transportation of the drill and provides a convenient place to position the tool.
20-stage torque adjustment plus additional drilling stage giving greater flexibility and precision whatever the material and screw size
Hammer-drill mode for drilling in masonry and stone
Two-speed planetary synchromesh gear for max. torque
Electronic switch with variable speed for improved accuracy and less damage to screw-heads.
Ergonomic Softgrip T-handle design for more comfortable use
2way-flex battery pack insertion: improved balance and flexibility
| | |
| --- | --- |
| Technical Specifications | |
| Battery Voltage | 28 Volt |
| Battery Capacity | 3.0 Ah |
| No Load Speed 1st Gear | 0 - 600 rpm |
| No Load Speed 2nd Gear | 0 - 1,800 rpm |
| Hammer Rate | 27,000 bpm |
| Drilling Capacity in Steel | 16mm |
| Drilling Capacity in Soft Wood | 65mm |
| Drilling Capacity in Masonry | 20mm |
| Max. Torque - Soft Joint | 32Nm |
| Max. Torque - Hard Joint | 75Nm |
| Weight with Battery Pack | 3.1Kg |
Standard Inclusive Equipment: 2 x 28 Volt, 3.0 Ah Lithium-Ion Batteries, 1 Hour Charger (V28C), Clip-Lok™ System, Bitholder, 2 x Bits, Carry Case
Sorry! There are currently no reviews for this product.
Thank you! Your review has been submitted for approval.