2994 reviews
UK Sales 01737 783 101
sales@sitebox.ltd.uk
We offer FREE UK Mainland delivery for orders over £50 (ex VAT exclusions apply)
Plastic Road Traffic Cone 18" (450mm)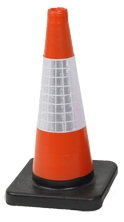 Authorised Distributor

Product ID: re4c18
Please use this reference number at any time when dealing with us so that we can identify the product you are looking at as quickly as possible.
(Please note this reference number will not be of any use to any other party except us.)
Related Products: See all related products
Manufacturer: Oxford Plastics
Price: £3.29 (£3.95 inc VAT)
5266 people have bought this item!
Error! Sorry there has been a problem adding your items to the cart.
Plastic Road Cone 18" (450mm)
Conforms to BS873, Cat. A
Kitemarked
Heavy Duty type with base

Cost effective one piece cone, manufactured from 100% recycled thermoplastic, which is recyclable, making this cone a completely environmentally friendly cone
Brand: Oxford Plastics
Identifier: re4c18
---
"Plastic Road Traffic Cone 18" (450mm)" By Mr Graham Harrison on Fri 15th December 2017

5/5
I did not place the largest of orders ,but the service I received was perfect ,delivery wason time as promised and the product is perfect as well Thank you
---
"Plastic Road Traffic Cone 18" (450mm)" By Glen Douglas on Wed 21st June 2017

5/5
Heavy which is what I wanted so would not blow away on our gliding site during our competitions
---
"Plastic Road Traffic Cone 18" (450mm)" By Colin on Tue 18th October 2016

5/5
Excellent service good price would highly recommend
---
"Plastic Road Traffic Cone 18" (450mm)" By Daniel on Fri 24th June 2016

5/5
Fantastic service, quick delivery and the fan was great too
---
"Plastic Road Traffic Cone 18" (450mm)" By Paul Clement on Sat 9th January 2016

5/5
pretty much as i expected, good quality, serviceable product and the delivery and service were very good
---
"Plastic Road Traffic Cone 18" (450mm)" By John Magee on Fri 25th September 2015

3/5
Delivered on time. and ready for use. excellent.
---
"Plastic Road Traffic Cone 18" (450mm)" By KRIS on Tue 14th July 2015

5/5
Best price by far we found online with stock availability for next day delivery of 100 cones. cant beat that A++++++++++++++++
---
"Plastic Road Traffic Cone 18" (450mm)" By Barry Warren on Sat 21st March 2015

5/5
Recently purchased 5 x Traffic Cones. Great website. Very impressed with my purchase. Fantastic service & delivery. Wouldn't hesitate recommending Sitebox Ltd to others.
---
"Plastic Road Traffic Cone 18" (450mm)" By Kim Carney on Mon 21st April 2014

5/5
Very quick next day delivery and as described on website.
---
"Plastic Road Traffic Cone 18" (450mm)" By Jamie c on Fri 21st March 2014

4/5
Good little cones and really quickly delivered, they're not PVC type material though they are more rubber like
---
Thank you! Your review has been submitted for approval.
Item Details
Brand new packaged items only.
Comes with a full manufacturer warranty (not including consumable products).
Please make use of any product reviews or youtube clips we have available to learn more about the item.
This item is usually delivered within 1 working day(s).
Website Details
SSL Certified Secure website to ensure secure online ordering.
Please return the item/s if not suitable for a full refund (within 7 working days of receipt).
We guarantee security of all your personal details, we do not pass on any customer information.
Accept all payment methods including all major Credit Cards, Paypal and Amazon Payments.
---
Ordering
Order online now using our Secure SSL Certified Secure website.
Add this product to your basket and come back at any time to complete the order.
Order by phone on 01737783101.
Order with an official purchase order by fax to 01737783102 OR by email to sales@sitebox.ltd.uk. We will check your account status or if you do not hold an account we will credit check your organisation, confirm and process your order. Please note the first order(s) will always need to be paid upfront unless you are a government linked organisation. Goods remain the property of Sitebox Ltd until paid for in full as per our full terms and conditions.
Reviews

Good products, prompt delivery, right price...
Andrew Lipian on 23rd Jan 2019

Good price and great service...
neil on 23rd Jan 2019

Delivery on time. Customer service great....
JOANNE GRAVIL on 23rd Jan 2019