2597 reviews
UK Sales 01737 783 101
sales@sitebox.ltd.uk
We offer FREE UK Mainland delivery for orders over £50 (ex VAT exclusions apply)
Telescopic Ladder 3.8 Metre Telesteps - Code 60238-101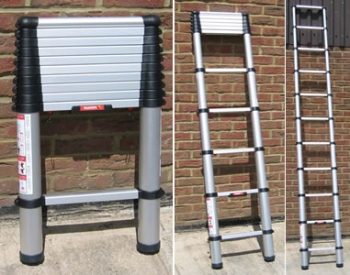 Product ID: TL_TEL38M
Please use this reference number at any time when dealing with us so that we can identify the product you are looking at as quickly as possible.
(Please note this reference number will not be of any use to any other party except us.)
Barcode: 07394483602381
Related Products: See all related products
Manufacturer: Telesteps
Warranty: Click here for info
Telesteps offer a 1 year warranty on any ladder components if proof of purchase can be provided.
Price: £199.95 (£239.94 inc VAT)
23 people have bought this item!
Error! Sorry there has been a problem adding your items to the cart.
Telescopic Ladder 3.8 Metre Telesteps - Code 60238-101
Most ladders can be carried, but the TELESTEPS® is portable in the true sense of the word
You'll be able to avoid problems in lifts, stairways, or any tight spaces
You can decide for yourself how long you want the ladder to be, so you will always have the right reach for every job
TELESTEPS® Ladder 3.8 metre
Anodized aluminium
Conforms to Trade EN131
Specifications:
Number of Steps: 12
Working Height: 5.0 metres
Length Extended: 3.8 metres
Length Closed: 1,100mm
Width: 510mm
Tread Width: 40mm
Weight: 12Kg
Maximum Load 150Kg
Brand: Telesteps
Identifier: TEL38M
European Consumers Award for Telestep's Smart Telescopic Ladder
In the face of stiff competition, Telesteps's smart telescopic ladder has been honoured with the European Consumers Award. The award is based on a large number of private persons' everyday use of the products across Europe.
"It is especially stimulating that we have received this honour from consumers, where the competition is keen.
The advantage of a ladder that is easy for you to take in lifts, vehicles and cramped spaces is obvious. For this reason,
it is even more pleasing that consumers also appreciate this and gave us top marks," says Mikael Schentz, CEO at
Telesteps, and continues:
"Telesteps's products are already reliable partners for the professionals, so now we want to turn our attention to
quality conscious consumers. We could hardly have received a better initial response from this choosy target group.
Their judgement is both flattering and commands respect."
"We have a good product that is both smart and safe. Functional in all positions, from folded to fully extended,"
Mikael Schentz says.
The jury gave its judgement in three categories: design, innovation and user-friendliness. The maximum number of
points in each category is 10 and Telesteps was awarded the fantastically high average of 9.4 points. An average of
over 9.0 qualifies as entry to a small exclusive band.
Nevertheless, Telesteps is not content to sit on its laurels; instead, work is already underway on a further develop-
ment of the award-winning ladder, to be launched next year.
We have done exactly as the competition organisers hoped: "We very much hope that you will continue in your
pursuit of excellence."
---
Sorry! There are currently no reviews for this product.
Thank you! Your review has been submitted for approval.
Item Details
Brand new packaged items only.
Comes with a full manufacturer warranty (not including consumable products).
Please make use of any product reviews or youtube clips we have available to learn more about the item.
This item is usually delivered within 2 working day(s).
Website Details
SSL Certified Secure website to ensure secure online ordering.
Please return the item/s if not suitable for a full refund (within 7 working days of receipt).
We guarantee security of all your personal details, we do not pass on any customer information.
Accept all payment methods including all major Credit Cards, Paypal and Amazon Payments.
---
Ordering
Order online now using our Secure SSL Certified Secure website.
Add this product to your basket and come back at any time to complete the order.
Order by phone on 01737783101.
Order with an official purchase order by fax to 01737783102 OR by email to sales@sitebox.ltd.uk. We will check your account status or if you do not hold an account we will credit check your organisation, confirm and process your order. Please note the first order(s) will always need to be paid upfront unless you are a government linked organisation. Goods remain the property of Sitebox Ltd until paid for in full as per our full terms and conditions.
Warranty Information
Telesteps offer a 1 year warranty on any ladder components if proof of purchase can be provided.
Reviews

Delivered on time easy plesent transaction very happy...
lee rawlings on 20th Jun 2018

Excellent service no problems at all delivered the next day...
Wayne on 20th Jun 2018

Turned up on time as order and a good product...
gasway - David Mason on 20th Jun 2018