2524 reviews
UK Sales 01737 783 101
sales@sitebox.ltd.uk
We offer FREE UK Mainland delivery for orders over £50 (ex VAT exclusions apply)
Clarke CL300M - Metal Lathe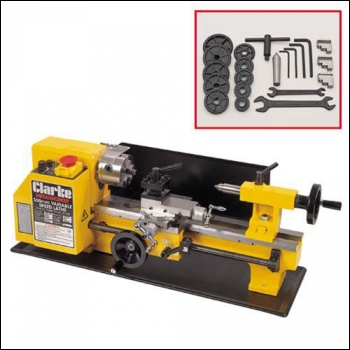 Product ID: clarke_7610700
Please use this reference number at any time when dealing with us so that we can identify the product you are looking at as quickly as possible.
(Please note this reference number will not be of any use to any other party except us.)
Related Products: See all related products
Manufacturer: Clarke
Warranty: Click here for info
List Price: £658.95 (£790.74 inc VAT)
Web Price: £499.95 (£599.94 inc VAT)
11 people have bought this item!
Error! Sorry there has been a problem adding your items to the cart.
Clarke CL300M - Metal Lathe
This superb, precision mini lathe is designed to perform a wide variety of tasks.
Solidly manufactured, the CL300M has a cast iron bedway and many features usually found on machines twice its size and price.
This machine can be used to turn mini precision parts and in model making, using the power feed, imperial screw cutting and includes a four way tool post and compound mitre slide.
The lathe comes complete with a gear change kit and the spanners and allen keys needed for setting up and there are many optional extras available, enabling you to up-grade your machine to suit your individual needs.


300 watt, 230v 1ph electric motor with variable speed control 100-2500rpm
Power feed operation with imperial screw cutting left & right hand threads.
Imperial thread 18pcs 12-104 TPI (Metric thread kit optional)
Includes compound mitre slide, 4 way tool post, self centering 3 jaw 80mm chuck, splashguard & undertray.
Spindle taper MT3 - Bore 20mm
Safety features include prominent emergency stop button & chuck guard.
Dimensions (LWH) 820x295x300mm. Weight 40Kg
Model No: CL300M
Part No: 7610700
Brand: Clarke
Identifier: CL300M
---
"Clarke CL300M - Metal Lathe" By John Cooper on Mon 26th March 2018

5/5
Very good small lathe
---
Thank you! Your review has been submitted for approval.
Item Details
Brand new packaged items only.
Comes with a full manufacturer warranty (not including consumable products).
Please make use of any product reviews or youtube clips we have available to learn more about the item.
This item is usually delivered within 2 working day(s).
Website Details
SSL Certified Secure website to ensure secure online ordering.
Please return the item/s if not suitable for a full refund (within 7 working days of receipt).
We guarantee security of all your personal details, we do not pass on any customer information.
Accept all payment methods including all major Credit Cards, Paypal and Amazon Payments.
---
Ordering
Order online now using our Secure SSL Certified Secure website.
Add this product to your basket and come back at any time to complete the order.
Order by phone on 01737783101.
Order with an official purchase order by fax to 01737783102 OR by email to sales@sitebox.ltd.uk. We will check your account status or if you do not hold an account we will credit check your organisation, confirm and process your order. Please note the first order(s) will always need to be paid upfront unless you are a government linked organisation. Goods remain the property of Sitebox Ltd until paid for in full as per our full terms and conditions.
Reviews

Have purchased several times from this company. Last order had damaged item but Beverley dealt with ...
CB on 23rd May 2018

a very efficient delivery operation. Ordered on Saturday arrived on Tuesdaay as advised. peased with...
john millard on 23rd May 2018

Excellent service will use again...
Stephen Shoubridge on 23rd May 2018