2524 reviews
UK Sales 01737 783 101
sales@sitebox.ltd.uk
We offer FREE UK Mainland delivery for orders over £50 (ex VAT exclusions apply)
Clarke CL500M Metal Lathe with Mill Drill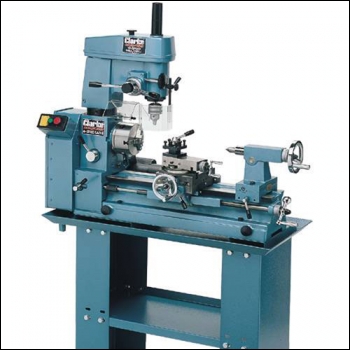 Product ID: clarke_7610300
Please use this reference number at any time when dealing with us so that we can identify the product you are looking at as quickly as possible.
(Please note this reference number will not be of any use to any other party except us.)
Related Products: See all related products
Manufacturer: Clarke
Warranty: Click here for info
List Price: £1,317.95 (£1,581.54 inc VAT)
Web Price: £1,039.95 (£1,247.94 inc VAT)
31 people have bought this item!
Error! Sorry there has been a problem adding your items to the cart.
Clarke CL500M Metal Lathe with Mill Drill
This superbly engineered Lathe can be used for turning, milling and drilling.
It's solid construction with a cast iron bed and a multitude of features make it outstanding value for money.
Lathe specification includes- Forward/reverse operation - 3 Jaw chuck - MT3 & MT4 centres - Spanners and wrench - Gear sets for screw cutting - Compound slide with 4 way tool post - Machine Vice. Distance between centres 430mm. Swing over bed 305mm. Swing across slide 172mm diameter. Spindle bore 26mm dia. Spindle taper No.4MT. Tail stock taper No.3MT. 6 Spindle speeds 170-1630rpm. 14 Metric screw cutting pitches 0.5 to 5.3mm. 20 Imperial screw cutting pitches 11 to 40 tpi. Power feed for screw cutting - - Powerful 3/4 hp 230v motor - No volt release switch. Chuck guards on lathe and mill/drill.
Mill/Drill Specifications- Quick action clutch for independent lathe/mill drill operation- Fine feed adjustment on milling - Mill head rotates 360 deg - Capstan to raise/lower head - Mill/drill head includes 13mm drill chuckDrill capacity - 13mm Spindle column 175mm. Spindle nose- table - 150-320mm. Spindle bed - 212-382mm. Spindle stroke 92mm. Spindle Taper 3MT (with drawbar). Spindle speeds 12 (130-1660 rpm) Table 200x 150mm. T slots 12mm.
Picture shows the machine mounted on the OPTIONAL floor stand/suds tray
0.75hp electric motor 230v, 1ph with on/off switch featuring prominent hit stop button for operator safety.
Fully rotating, capstan operated 12 speed mill drill head with 13mm drill chuck & fine feed adjustment.
6 speed forward/reverse lathe with 3 jaw chuck, compound slide, 4 way tool post & MT3/MT4 centres.
Power feed screw cutting with gear sets included for metric 14 (0.5-3.0mm pitch) & imperial 20 (11-40 TPI).
Quick acting clutch for independent mill drill / lathe operation.
Picture shows stand with suds tray - this is available as an optional extra.
Dimensions (LWH) 1100x600x880mm. Weight 164kg
Model No: CL500M
Part No: 7610300
Brand: Clarke
Identifier: CL500M
---
"Clarke CL500M Metal Lathe with Mill Drill" By Carlos Teixeira on Thu 6th July 2017

5/5
There isn't much too say, excellent customer service and item as described had problems on similar sites trying to get them to send a metal lathe to Jersey (Channel Islands) not a problem for Sitebox Ltd , very happy got my new toy. A big Thanks to James Dolan and is team for an excellent job. Already thinking what's next on the agenda .Thanks Regards Carlos
---
Thank you! Your review has been submitted for approval.
Item Details
Brand new packaged items only.
Comes with a full manufacturer warranty (not including consumable products).
Please make use of any product reviews or youtube clips we have available to learn more about the item.
This item is usually delivered within 2 working day(s).
Website Details
SSL Certified Secure website to ensure secure online ordering.
Please return the item/s if not suitable for a full refund (within 7 working days of receipt).
We guarantee security of all your personal details, we do not pass on any customer information.
Accept all payment methods including all major Credit Cards, Paypal and Amazon Payments.
---
Ordering
Order online now using our Secure SSL Certified Secure website.
Add this product to your basket and come back at any time to complete the order.
Order by phone on 01737783101.
Order with an official purchase order by fax to 01737783102 OR by email to sales@sitebox.ltd.uk. We will check your account status or if you do not hold an account we will credit check your organisation, confirm and process your order. Please note the first order(s) will always need to be paid upfront unless you are a government linked organisation. Goods remain the property of Sitebox Ltd until paid for in full as per our full terms and conditions.
Reviews

Have purchased several times from this company. Last order had damaged item but Beverley dealt with ...
CB on 23rd May 2018

a very efficient delivery operation. Ordered on Saturday arrived on Tuesdaay as advised. peased with...
john millard on 23rd May 2018

Excellent service will use again...
Stephen Shoubridge on 23rd May 2018