2524 reviews
UK Sales 01737 783 101
sales@sitebox.ltd.uk
We offer FREE UK Mainland delivery for orders over £50 (ex VAT exclusions apply)
Clarke Heavy Duty Jump Start 4000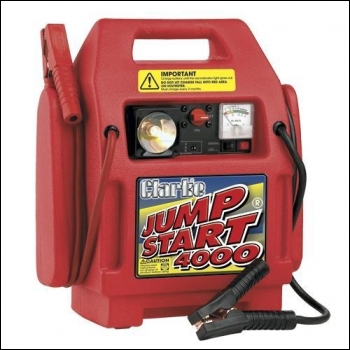 Product ID: clarke_6240030
Please use this reference number at any time when dealing with us so that we can identify the product you are looking at as quickly as possible.
(Please note this reference number will not be of any use to any other party except us.)
Related Products: See all related products
Manufacturer: Clarke
Warranty: Click here for info
List Price: £183.95 (£220.74 inc VAT)
Web Price: £129.36 (£155.24 inc VAT)
40 people have bought this item!
Error! Sorry there has been a problem adding your items to the cart.
Heavy Duty Jump Start 4000
HEAVY DUTY – equipped with 'extra-power' battery for easily starting bigger engines.
Selected as a "Best Buy" by Which Caravan Magazine because of it's feature packed specification.
Ideal for easily starting petrol engines up to 6 litres and diesels up to 4 litres this unit has 1500amp peak power output and the 1m leads are operated by a heavy duty isolator switch, so you can safely connect them to the battery.
Other features include -
Integral work light - ideal for roadside repairs or emergencies.
Audible incorrect polarity and low battery alarm.
Maintenance free, high capacity battery.
Carry handle and booster cable storage facility.
1500 amps peak output / 700 amps boost at 12v
Sealed, maintenance free battery for long service life & safe operation
Battery condition & charge level indicator
Integral worklight for roadside repairs or emergency situations
Battery pack can be recharged from 230v mains or in vehicle via 12v adapter
Extra strong 1.0M long leads & heavy duty battery clamps
Weight 17kgs
Model No: JUMPSTART 4000
Part No: 6240030
Brand: Clarke
Identifier: clarke_6240030
---
"Clarke Heavy Duty Jump Start 4000" By kevin Aldred on Mon 21st May 2018

5/5
very good service is all you need to know
---
"Clarke Heavy Duty Jump Start 4000" By Carol Restell on Tue 26th September 2017

4/5
We had a problem with damage to our original item, I had to photograph it and send by e-mail back to the site. Once that was done they quickly picked it up and despatched a new one. The whole process took a week but we now have a good functioning item.
---
Thank you! Your review has been submitted for approval.
Item Details
Brand new packaged items only.
Comes with a full manufacturer warranty (not including consumable products).
Please make use of any product reviews or youtube clips we have available to learn more about the item.
This item is usually delivered within 2 working day(s).
Website Details
SSL Certified Secure website to ensure secure online ordering.
Please return the item/s if not suitable for a full refund (within 7 working days of receipt).
We guarantee security of all your personal details, we do not pass on any customer information.
Accept all payment methods including all major Credit Cards, Paypal and Amazon Payments.
---
Ordering
Order online now using our Secure SSL Certified Secure website.
Add this product to your basket and come back at any time to complete the order.
Order by phone on 01737783101.
Order with an official purchase order by fax to 01737783102 OR by email to sales@sitebox.ltd.uk. We will check your account status or if you do not hold an account we will credit check your organisation, confirm and process your order. Please note the first order(s) will always need to be paid upfront unless you are a government linked organisation. Goods remain the property of Sitebox Ltd until paid for in full as per our full terms and conditions.
Reviews

Have purchased several times from this company. Last order had damaged item but Beverley dealt with ...
CB on 23rd May 2018

a very efficient delivery operation. Ordered on Saturday arrived on Tuesdaay as advised. peased with...
john millard on 23rd May 2018

Excellent service will use again...
Stephen Shoubridge on 23rd May 2018