3347 reviews
UK Sales 01737 783 101
sales@sitebox.ltd.uk
We offer FREE UK Mainland delivery for orders over £50 (ex VAT exclusions apply)
Leica Disto D810 Kit Laser Distance Measurer Pro Kit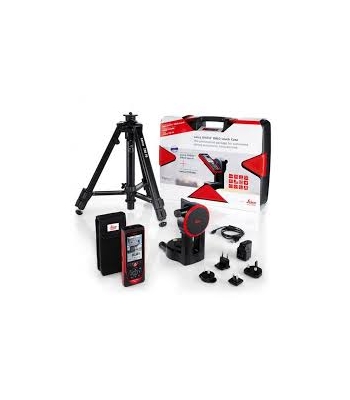 Product ID: LEICA_DISTO_D810KIT
Please use this reference number at any time when dealing with us so that we can identify the product you are looking at as quickly as possible.
(Please note this reference number will not be of any use to any other party except us.)
Barcode: 07640110694886
Related Products: See all related products
Manufacturer: Leica
Warranty: Click here for info
Price: £580.00 (£696.00 inc VAT)
26 people have bought this item!
Error! Sorry there has been a problem adding your items to the cart.
Leica Disto D810 Kit Laser Distance Measurer (Full Pro Kit)
The DISTO D810 Touch Pro Kit includes theTRI70 tripod, FTA360 adapter, and a hard case for transport and storage. The D810 incorporates a touch screen interface, integrated camera, compass, and 4X Pointfinder targeting display in a fully featured instrument that lets you measure with a picture. The touch screen allows navigation with a swipe of your finger or pinch to zoom in/out. Also included are two favorite keys for the functions you use every day. Take a picture to measure the width of flat or circular items (trees, pipes/duct work, columns, and vertical tanks) and calculate the length, or diameter/circumference/area of round items. Additionally, use the laser and camera to measure the width, height and area of signs, billboards, and wall facades. Screen images can be recorded as JPGs and downloaded via USB to a Windows/Mac computer. It can also transmit values to computer hardware supporting BlueTooth 4.0 Smart Ready technology. Newer Android/iPad/iPhone types of devices with BT4.0 are supported with the free Disto Sketch app. (BT4.0 is not compatible with earlier versions of BT.) Best of all, the DISTO D810 is still a full featured, 650ft range, 1mm accurate LDM incorporating a help feature for every function. It's dust and water jet protected to IP54, and accuracy is backed by ISO 16331-1 standards. It's packed with features: integrated calculator, area/volume calculations, 2&3 point Pythagoras, stake out, triangle area, delay timer, offset, 30 position memory, height tracking, indirect height, brass 1/4-20 mounting grommet, profile measurement, multifunction end piece with automatic detection, high visibility 4-line color illuminated display, Li-Ion rechargeable battery, nylon pouch with belt loop, lanyard, quick start guide.
Complete Kit Includes Disto, FTA360 Adapter, TRI70 Tripod, and a Hard Case for Storage and Transport

Adapter and Tripod Provide Stable Base for Precise Targeting Control when Measuring from Remote Locations, or Over Long Distances

Color Point finder Display with 4X Zoom and Onscreen Targeting Cross Hair Capable of Measuring up to 650ft Indoors or Outdoors
Brand: Leica
Identifier: D810KIT
---
"Leica Disto D810 Kit Laser Distance Measurer Pro Kit" By Mark Bridger on Wed 16th January 2019

5/5
Super quick delivery - laser up and running in ten minutes - top service.
---
"Leica Disto D810 Kit Laser Distance Measurer Pro Kit" By Sojie on Mon 13th August 2018

5/5
good value fast delivery
---
"Leica Disto D810 Kit Laser Distance Measurer Pro Kit" By Tomasz Kukulka on Fri 15th December 2017

5/5
Very good seller and express delivery.... Thank you.
---
"Leica Disto D810 Kit Laser Distance Measurer Pro Kit" By Alfie on Mon 22nd May 2017

5/5
Great website, found and ordered what I needed very easily and it was delivered next day.
---
"Leica Disto D810 Kit Laser Distance Measurer Pro Kit" By Neil Tomkinson on Mon 28th November 2016

4/5
I must say that 5 stars would be the order of the day if not for not letting me a slight grumble over carriage communication as a separate matter! I ordered a site kit for a Leica D810 on the Thursday evening and it arrived first thing on the Monday. Rapid delivery and packed well. Only slight grumble is it would have been nice to know it had been shipped and when to expect delivery as it was a few hundred pounds worth of kit and I was actually out when it was delivered; luckily someone else was in, otherwise there would have been a delay in delivery just for the sake of a decent carrier notification.
---
"Leica Disto D810 Kit Laser Distance Measurer Pro Kit" By Mr Rupert Lane on Wed 8th June 2016

2/5
Not as good as had hoped for - went for the camera version as do a lot of long distance measuring - new forest tracks, loading areas etc and in bright sunlight really hard to view measuring point as no means to focus. Can't fault supplier Site box, arrived on time and as described but find it hard to believe you can't focus a Leica lens (after all they have a reputation) only 3 brightness options -almost returning it but rare to get such a long period of bright sunshine so imagine site work in autumn and winter will be better. Disappointed in reality
---
Thank you! Your review has been submitted for approval.
Item Details
Brand new packaged items only.
Comes with a full manufacturer warranty (not including consumable products).
Please make use of any product reviews or youtube clips we have available to learn more about the item.
This item is usually delivered within 2 working day(s).
Website Details
SSL Certified Secure website to ensure secure online ordering.
Please return the item/s if not suitable for a full refund (within 7 working days of receipt).
We guarantee security of all your personal details, we do not pass on any customer information.
Accept all payment methods including all major Credit Cards, Paypal and Amazon Payments.
---
Ordering
Order online now using our Secure SSL Certified Secure website.
Add this product to your basket and come back at any time to complete the order.
Order by phone on 01737783101.
Order with an official purchase order by fax to 01737783102 OR by email to sales@sitebox.ltd.uk. We will check your account status or if you do not hold an account we will credit check your organisation, confirm and process your order. Please note the first order(s) will always need to be paid upfront unless you are a government linked organisation. Goods remain the property of Sitebox Ltd until paid for in full as per our full terms and conditions.
Reviews

Great product One call Next day delivery Five star service...
Gary on 15th Jun 2019

Excellent service, prompt delivery....
Terry Delieu on 14th Jun 2019

This was a very easy web site to use. The item was bought as a present so I do not know how well it ...
Mrs Judith Llewellyn on 13th Jun 2019